Bild saknas
Organic Swedish-made acai powder.- Vegan
- Raw
- Concentrated
Product description
Nutritional content
Product description
Organic Acai Powder
Enjoy the benefits of acai berries with Healthwell Acai Powder EKO, an organic and concentrated acai powder without additives. Acai is usually one of our super berries and has recently become immensely popular among health enthusiasts because it is rich in antioxidants, fatty acids and minerals. To retain as much nutrition as possible, Acai Powder EKO has been carefully manufactured according to raw food methods. Add Acai Powder EKO to a fresh smoothie - or why not make your own Acai Bowl? Only your imagination sets the limits!
Organic Acai Powder
Raw & organic
Vegan product
Made in Sweden
Make your own acai bowl or smoothie
What is acai?
Acai is a blue-purple berry that grows on the Acaiziro palm in the Amazon rainforest. In appearance, acai resembles a combination of blueberries and red grapes. Thanks to the impressive nutritional content, the acai berry is often presented as a super berry. Acai is not pronounced as many people think; "Ah-kye", but with an s instead: "ah-sigh".
Acai berries are very rich in polyphenols, a class of substances that act as an antioxidant in plants. Antioxidants are important for the body because they help counteract free radicals that can accelerate cell aging. Free radicals are constantly formed in our bodies but can increase with, for example, stress and poor eating habits.
In addition to antioxidants, acai berries contain the fatty acids omega-3 and omega-6, as well as vitamins and minerals such as vitamin A, vitamin E, iron, potassium, magnesium and calcium. Acai berries are also very rich in fibre, containing as much as 24 grams per 100 grams. Fiber contributes to an increased feeling of satiety and is therefore popular with, for example, diets because it can help keep blood sugar in check.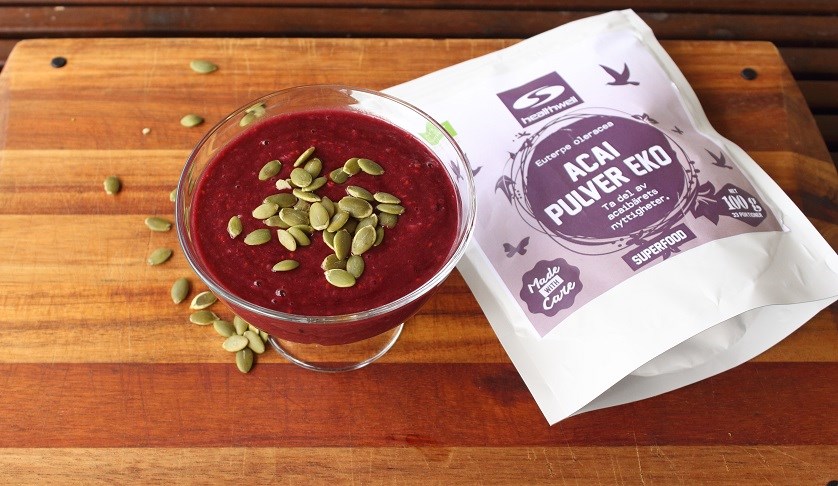 EKO acai powder is great in a smoothie or bowl!
Made with raw food technology
Healthwell's Acai powder ECO is made from freeze-dried acai berries with the core removed. They are then ground to powder using the raw food technique. This means that the product has been heated to a maximum of 42 degrees to preserve as much of the nutrient content as possible. Acai powder ECO from Healthwell is made in Sweden. The powder tastes like something between blueberries and chocolate.
Popular in recipes: acai bowl and acai smoothie
Recently, the interest in acai has sky rocketed. The small super berry with antioxidants and nutrients has become popular to use in, for example, smoothies and acai bowls. An acai bowl is an easy snack containing acai powder, which can be compared to a frozen yogurt or a creamier smoothie. The Acai Bowl works well as breakfast, snacks or after exercise and comes in lots of variations. It often contains frozen berries, banana, acai berries and can be topped with fruit, berries, coconut flakes or nuts to your liking and taste.
Other popular recipes with the acai berry are acai bar, iced tea with acai and raw acai ice cream. You can also try mixing the nutritious powder in homemade juices or sprinkling it over yoghurt in the morning to get ready for the day.
Brand
Product recommendations