Bild saknas
Works for better digestion.- With protease
- Cleavage enzyme
- Vegetable
You have to select your country to purchase this product.
Hyaluronic Acid Plus
90 caps.
Popular
Popular
Product description
Nutritional content
Shipping & payment
Product description
Betaine for better digestion
Healthwell's Betain HCL + Proteas contains betaine hydrochloride with the enzyme protease, which together act actively in the gastrointestinal tract. Betaine HCL comes in vegetable based capsules, and is recommended with 1 capsule daily in conjunction with the day's largest meal. 1 capsule gives you 325 mg betaine and 60 mg protease (equivalent to 3000 U).
Hydrochloric acid balance
Betaine hydrochloride enhanced with protease
Protease is an oxygen-adapted enzyme
Recommended with larger meals
Vegetable capsules
What is betaine HCl?
Betaine hydrochloride (Betain HCL) is a combination of the amino acid betaine and hydrochloride, a salt of hydrochloric acid that makes the stomach acid acidic. Betaine hydrochloride helps in the production of hydrochloric acid in the gastric juice. Betaine HCL from Healthwell is also enhanced with protease, an oxygen-adapted enzyme (pH 2.5-3.5) that helps in the breakdown of proteins in the stomach. One capsule contains 60 mg of protease, which breaks down 128 g of coagulated protein from egg whites.
Good digestion is important for our stomach health and our general well-being. Stomach problems can seem very different, and common stomach problems are difficulties with digestion, which can manifest itself as stomach pain, bloating, acid regurgitation or gas after large and heavy meals. Proper digestion is also important for us to be able to absorb the nutrients from the food we eat. When digestion does not work properly, it can be due to, for example, a lack of enzymes that break down the food or that we have too low an amount of hydrochloric acid (stomach acid). Healthwell's Betain HCL + Proteas is therefore recommended in connection with the day's largest meal.
Why is stomach acid important?
The stomach acid must be very acidic and is important for us to be able to break down the food we eat properly. The stomach acid also helps to activate the enzyme pepsin which acts to break down proteins from the diet. In addition, stomach acid acts as an inhibitory factor for bacteria that may be present in food. Age, stress and an unbalanced diet are all factors that affect the hydrochloric acid balance in the stomach.
Good to know : Betaine is also called trimethylglycine.
Vegetarian Friendly
The symbol Vegetarian Friendly indicates that the product's content is suitable for vegetarians and vegans.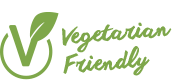 Brand
Other customers have bought