Bild saknas
Cordyceps full spectrum extract. - Traditional Chinese mushrooms
- 40% polysaccharides
- 500 mg
Product description
Nutritional content
Product description
High quality cordyceps extract
Healthwell Cordyceps contains a full spectrum extract of the Chinese fungus cordyceps, with an optimal amount of active ingredients. Cordyceps is a well-known fungus in the Chinese tradition of natural remedies, to which many positive properties are attributed. The recommended dose is 1 capsule per day, where one dose provides 500 mg of cordyceps extract.
Cordyceps full spectrum extract
40% polysaccharides - active substance in cordyceps
Traditional Chinese mushroom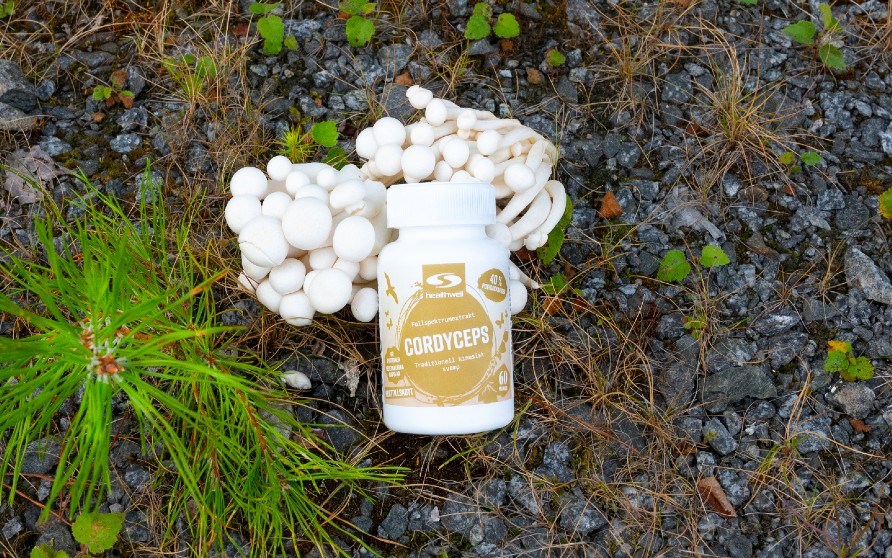 What is cordyceps?
Cordyceps (Cordyceps sinensis) acts as a parasitic fungus in mainly larvae. In Chinese it is called Dong chong xia cao, which can be translated as "winter insect, summer herb", which serves as a vivid description of its course from parasite to health herb. Throughout history, this fungus has been much sought after and valuable, and only the wealthy have been able to afford to use it.
Cordyceps contains several active substances, with the amount of polysaccharides above all serving as a starting point for its quality. Polysaccharides in cordyceps act as an active substance for the properties of the fungus and a good dietary supplement should contain between 30 and 40% polysaccharides as an optimal amount. Less than this provides a weaker effect, while a higher amount indicates that the other active substances are not high enough.
Healthwell Cordyceps contains 40% polysaccharides, and comes from the fungus' fruiting bodies. This results in a full spectrum extract with more active substances than an extract that comes only from a part of the fungus.
What is cordyceps used for?
Cordyceps has long been used in the Chinese tradition of natural remedies (TCM), and many good properties have been attributed to it. According to tradition, it has been used as a general strengthening agent, and has also been studied in modern research in areas such as exercise performance, heart health and the immune system. However, more studies are needed before results can be guaranteed.
Cordyceps can be used as a daily supplement. The recommended dose of Healthwell Cordyceps is 1 capsule per day, which provides 500 mg of cordyceps extract and 200 mg of polysaccharides.
Does cordyceps have side effects?
Side effects from cordyceps are rare. However, always follow the recommended dosage instructions to avoid unwanted side effects.
Brand
Product recommendations