Bild saknas
A 100% natural detox mix- Nutrient powder with algae
- For a healthier detox treatment
- Vitmainer and minerals
Hyaluronic Acid Plus
90 caps.
Popular
Popular
Product description
Nutritional content
Product description
Nutrient powder for detoxes
Healthwell Detox Greens is a nutritious and 100% natural blend of vegetables, fruits, berries, algae and herbs that you can use alongside a detox or as part of a healthy diet. Detox Greens from Healthwell contains plenty of important nutrients and antioxidants, all so that you can carry out the best detox possible. One serving of Healthwell Detox Greens is equivalent to a large bowl of fruits and vegetables, and contains no additives, sweeteners or added sugar. Perfect if you want a natural product!
100% natural detox mix

For a healthier detox

Free from sweetener

Vegetable mix with algae, berries and fruit

One serving corresponds to a large bowl of fruit and vegetables

Can be mixed into smoothies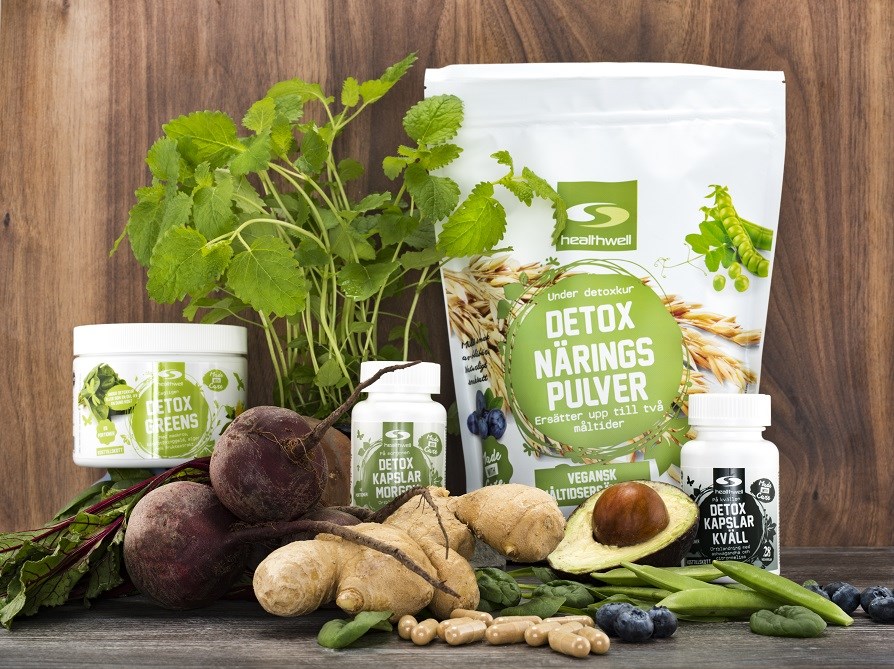 What does Detox Greens contain?
Detox Greens contains carefully selected nutrients that are often linked to detoxes and cleanses. Its contents are a carefully thought-out mix of fruits, berries, vegetables, algae, seeds and herbs. This nutritional powder also contains extracts that help the intestines, metabolism and other cleansing organs work properly. You will find chlorophyll-rich wheatgrass, spirulina, spinach and broccoli, as well as dandelion, avocado, high-fibre beetroot, lemon balm and green tea. In addition, the plants contain vitamins, minerals and antioxidants that help maintain the immune system and protect the cells from free radicals.
How to dose Healthwell Detox Greens:
Mix 1 heaped scoop, about 7 grams of Detox Greens with 200 ml of water. Drink the vegetable mix twice a day, one serving in the morning and one serving in the evening.
What is a detox?
Healthwell Detox green mix is 100% natural and each serving corresponds to a hearty serving of fruit and vegetables. You can use Detox Greens during a detox or as a supplement to a healthy diet. A detox usually lasts between 7-14 days, and is implemented to cleanse waste products from the body or to get a kickstart for a healthier life and approach to food. But sometimes even a 2-3 day detox after a weekend of lots of food and junk can be a good way to get the body going, and to feel a mental cleansing and purity in the body again.
To get the best effect from your detox or cleanse, supplement with Healthwell Detox Capsules Morning and Detox Capsules Evening.
The detox powder contains:
Wheatgrass powder which, despite its name, is gluten-free. Wheatgrass is very nutritious and contains chlorophyll, amino acids, copper, zinc, iron, calcium and vitamin E. In addition to the rich content of nutrients, wheatgrass consists of half fiber, which contributes to a healthy intestinal function and is beneficial for your detox. In addition to the rich content of fiber and chlorophyll, wheatgrass is rich in base-forming minerals and contributes to a normal pH balance in the body, making wheatgrass a popular product to use when you want to regain the pH balance in the body, like during a detox.
Spirulina is a nutrient-rich algae that has a content of no fewer than 100 different nutrients. For example, spirulina consists of 60-70% protein and contains all the essential amino acids that the body needs. In addition to having a high protein content, spirulina is rich in vitamins and minerals such as iron, magnesium, calcium, potassium, zinc, B vitamins, vitamin C and vitamin E. In addition, spirulina is rich in antioxidants, chlorophyll and the essential fatty acid omega-6, an important ingredient that helps protect cells from oxidative stress.
Spinach powder is rich in vitamins, minerals, chlorophyll and thylakoids. Thylakoids are found in many dark green leafy vegetables. They have been found to help slow down both digestion and the absorption of nutrients from food, which can have a positive effect on your appetite.
Avocado extract is rich in vitamins, minerals, antioxidants, fiber and healthy fats. Thanks to this content, the body gets nutrition and it may also provide a feeling of satiety that lasts longer.
Fibre provides a pleasant feeling of satiety while also contributing to normal intestinal function.
Rosehip powder is rich in vitamin C and the minerals iron, potassium, calcium, folic acid and magnesium. Vitamin C acts as an antioxidant and contributes to a normally functioning immune system. Iron contributes to normal blood formation and oxygen transport. Potassium in turn helps regulate blood pressure.
Beetroot juice is rich not only in vitamins and minerals, but has a high content of nitrate and flavonoids. Nitrate has been shown to affect nitric oxide formation, which in turn helps to dilate blood vessels, leading to good blood flow. Studies have also shown that beetroot contains the amino acid betaine and is high in fiber.
Dandelion powder has long been used in health foods and in connection with cleansing regimens. Dandelion is considered an herb and not only contains vitamin C and minerals, but is also rich in bitter substances.
Queen bee jelly has been widely used in beauty products thanks to its rich content of collagen, enzymes, amino acids, vitamins and minerals. Queen bee jelly not only does good on the skin - it works just as well to care for the inside.
Acerola powder has a high content of vitamin C, so high that it has about 30 times more vitamin C than an orange. In addition to vitamin C, the acerola cherry is also rich in calcium, iron, anthocyanin and antioxidants.
Grape seed extract is rich in flavonoids and polyphenols that act as antioxidants.
Lemon balm extracts have long been used in supplements for calming effects and to create a feeling of relaxation.
Green tea extract contains as much as 40% polyphenols. Polyphenols are a very interesting class of substances that contain phenolic groups. Green tea also contains catechins, so-called EGCG.
Ginger extract has a rich mix of vitamins and minerals - to name just a few, you will find copper, zinc, vitamin B6 and vitamin E. But in this respect, ginger's content of gingerols is interesting because they have been shown to increase heat production in the body, which can have a positive effect on energy consumption during a detox.
Acai powder is rich in the beneficial and healthy omega fatty acids, antioxidants, polyphenols and flavonoids.
Blueberry powder has a rich content of vitamins, minerals and fatty acids and has long been used for its positive effect on the stomach. Blueberries also have a high content of sterols and antioxidants that protect the cells from free radicals and contribute to a normally functioning immune system.
Brand
Product recommendations
Hyaluronic Acid Plus
90 caps.
Popular
Popular