Bild saknas
Healthwell Lecithin Powder
Lecithin in powder form. - Found in the brain
- From sunflower seeds
- Mix into drink or food
Product description
Nutritional content
Product description
Sunflower lecithin in powder form
Healthwell Lecithin Powder is a vegan supplement with sunflower lecithin in powder form. Lecithin is a fatty substance that is found naturally in all cells of the body. Part of the brain is, among other things, lecithin and the substance plays a role in several processes in the body. Healthwell Lecithin Powder is completely free from additives and is easily dosed in any beverage or food. As the supplement is based on sunflower seeds, it is also allergen-free.
Sunflower lecithin in powder form
Found naturally in the body's cells, including the brain
Completely free from additives
Mix into a drink of your choice
Allergen free
What is lecithin?
Lecithin is a fatty substance that is found naturally in all cells of the body. The substance is involved in the body's transport of fat, and therefore participates in the emulsification of cholesterol in the blood and fat storage in the liver. In addition, lecithin is thought to play a role in brain function, as the substance forms part of the brain. Among other things, lecithin has been raised in studies on memory and cognition in the elderly with dementia or Alzheimer's (1). However, more studies are needed to be able to draw conclusions.
Lecithin as a supplement is often extracted from soybeans, rapeseed or sunflower seeds. Healthwell's lecithin powder is extracted from sunflower seeds, which is an allergen-free alternative to the soy-based lecithin powder. To have a long-term effect, the supplement should be taken regularly.
How is Healthwell Lecithin Powder dosed?
Healthwell Lecithin Powder is easy to dose. Mix about 1 tablespoon (15ml/10 g) in any food or drink once a day. There is no evidence that lecithin is dangerous in excessive amounts, but we recommend following the dosage recommendation to avoid any possible side effects.
References
Vegetarian Friendly
The symbol Vegetarian Friendly indicates that the product's content is suitable for vegetarians and vegans.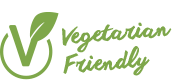 Brand