Bild saknas
A well composed mix of herbs substances.- Highly-dosed extract
- 2 capsules per serving
- Rosehip, turmeric, boswellia
Product description
Nutritional content
Product description
Herbal complex for an active life
Inflamin® Premium is an extra high-dose supplement with a wide range of well-known standardized herbs and plants. This complex includes a full-spectrum rosehip extract, which is often a common ingredient in joints supplements and is naturally rich in vitamin C. Inflamin® Premium also contains a high dose of curcumin from the immensely popular herb turmeric, fortified with black pepper extract to optimize the uptake. Other well-known herbs are Boswellia serrata with its content of boswellic acid, and ginger which contains gingerols. Inflamin® Premium suits those who want a life in motion easily. Since all ingredients are highly-dosed, you don't have to supplement your intake with several separate supplements - with Inflamin® Premium you get everything in one capsule!
Well-composed herb supplement
Contains boswellia, ginger, turmeric and rosehips
2 capsules per serving
Plant-based capsules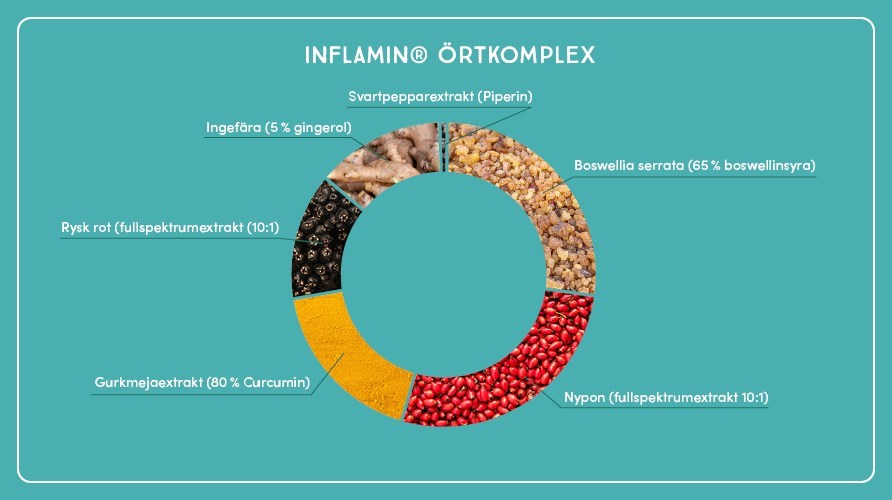 Inflamin® Premium is an advanced herb complex with, among other things, turmeric extract, rosehip and boswellia serrata.
What does QURE Inflamin contain?
Inflamin® Premium contains a carefully selected combination of plants and herbs that have long been used in the Ayurvedic tradition. One of the more well-known is rosehip, which is naturally rich in vitamin C so helps maintain the normal formation of collagen. Collagen is a protein that, among other things, has the task of holding together and supporting our joints and cartilage. In addition, Inflamin® Premium contains turmeric (with the active ingredient curcumin) and boswellia serrata (frankincense). Boswellia has been studied in connection with joint problems (1). Both of these are recurring in the Ayurvedic tradition but are increasingly being used in the Western world.
Ginger extract and the very interesting Siberian ginseng are also included in the supplement and both have similar properties. Ginger has been studied in connection with knee problems (2), but more studies are needed to be able to say whether it helps or not. All of these herbs are combined in a potent complex in Inflamin® Premium, which is taken between meals on an empty stomach for best absorption.
Why should you choose extracts?
An extract is derived from the active substances in a plant. The advantage of using an extract is that they are highly concentrated and contain almost only the substances you want, unlike if you were to use the an entire plant. This makes the extracts very powerful.
What does an inflammation mean?
An inflammation can be acute or chronic. Acute inflammation occurs mainly in temporary injuries and diseases and is the body's way of reacting to the injury. Healing often starts immediately and common symptoms are fever, soreness and swelling. A chronic inflammation has more diffuse symptoms and can therefore be present in the body for several years before it is detected. Examples of symptoms are fatigue, aches, skin problems and hair loss. In addition, chronic inflammation is often associated with more serious health conditions.
References
1. Yu, Ganpeng, Xiang, Wang et al. 2020. Effectiveness of Boswellia and Boswellia extract for osteoarthritis patients: a systematic review and meta-analysis.
2. Altman R D & Marcussen K C. 2001. Effects of a ginger extract on knee pain in patients with osteoarthritis.
Vegetarian Friendly
The symbol Vegetarian Friendly indicates that the product's content is suitable for vegetarians and vegans.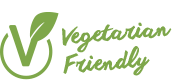 Brand
Product recommendations