Bild saknas
Iron supplement with added vitamin C.- Gentle on the stomach
- Fortified with folic acid
- Needed for blood formation

You have to select your country to purchase this product.
Hyaluronic Acid Plus
90 caps.
Popular
Popular
Product description
Nutritional content
Shipping & payment
Product description
Iron supplement that is gentle on the stomach
Iron Vital is an iron supplement that is gentle on the stomach and has added vitamin C for optimal absorption. Iron Vital is also fortified with folic acid and citrus bioflavonoids that help the formation of red blood cells. The form of iron bisglycinate found in the Iron Vital capsules is a form with high bioavailability that is easier for the body to absorb. When iron is bound to the amino acid glycine, it can be transported through the stomach unchanged and then absorbed directly in the small intestine. This means that side effects, such as constipation, which is otherwise common when taking iron supplements, can be avoided. One capsule of Iron Vital contains 20 mg of iron, ensuring your iron intake.
Iron bisglycinate which is gentle on the stomach
With added vitamin C for optimal absorption
Fortified with folic acid
What is iron?
Iron is an important substance in the blood where it is found in haemoglobin, which transports oxygen into the muscles. Iron is also found in some enzymes. It is our red blood cells that are responsible for transporting the oxygen we get through the air we breathe out into all parts of our body. Not getting enough iron may lead to anaemia, which can cause symptoms of fatigue and lack of energy.
The European Food Safety Authority (EFSA) has found that:
Iron is needed for oxygen transport in the body
Vegetarians have lower iron levels than those who eat meat
Calcium and zinc reduce iron absorption
Iron in food
Iron is found mainly in blood and intestinal foods, such as liver and meat. It is also found in vegetable foods, such as whole grain products, nuts, and legumes. The body's absorption of iron is low when compared to other nutrients. The iron in vegetable foods is somewhat more difficult for the body to absorb, which means that vegans and vegetarians, who don't eat meat, may need to consider their iron intake. Iron absorption can be facilitated by a simultaneous intake of vitamin C. Worth knowing is that people with iron deficiency absorb more iron from the food, which is especially important during times when iron supplies are being built up. Also remember that it is harder for your body to absorb iron when you drink tea, coffee, and milk.
Vegetarian Friendly
The symbol Vegetarian Friendly indicates that the product's content is suitable for vegetarians and vegans.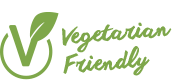 Brand
Other customers have bought