Bild saknas
Multivitamin for children's needs and tastes. - Easy-to-mix powder
- Gentle and easy to absorb
- With organic fruits and berries
Popular
Popular
Vitamin D3 2500 IU
120 caps.
Popular
Product description
Nutritional content
Product description
Multivitamin in powder form for children
Healthwell Kids Multivitamin is a flexible and tasty multivitamin in powder form, specially developed for children's needs. The powder contains 25% dried organic fruits and berries along with fiber, lactic acid bacteria and 22 of our most important vitamins and minerals. All in easily absorbable forms that are gentle on children's stomachs! Healthwell Kids Multivitamin has a tasty and child-friendly flavour of real raspberries and blueberries with sweetener from the stevia plant. Simply mix it into a small amount of water or other liquid.
Vitamins and minerals in carefully selected forms
25% organic fruits and berries
Delicious taste of raspberries and blueberries
Easy to mix into a small amount of liquid
Gentle on the stomach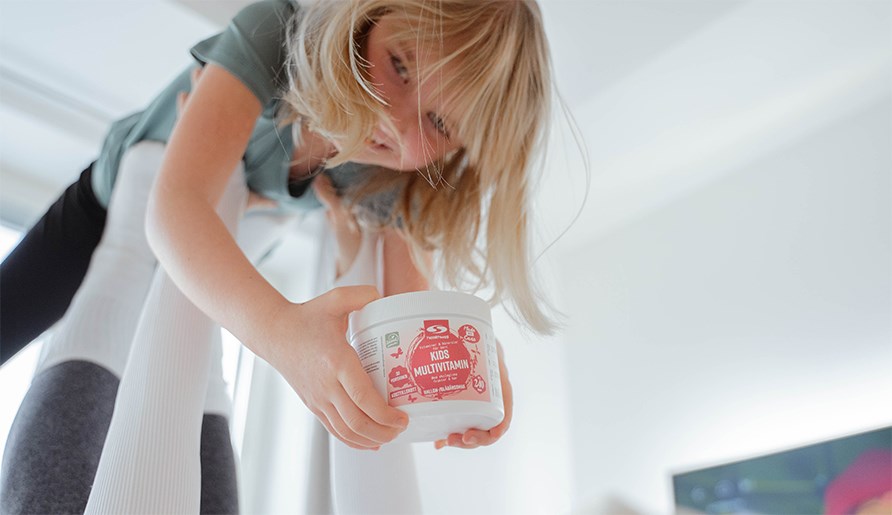 Tasty multivitamin with 25% organic fruits and berries!
Important vitamins and minerals
Healthwell Kids Multivitamin is a complete multivitamin powder that covers approx. 100% of children's daily needs for vitamins and minerals. The supplement contains, for example, vitamin C, vitamin B6 and zinc, which are important for maintaining a normal immune system. It also contains calcium, which is involved in the building of the bone structure, as well as vitamin D, which is important for the skeleton to grow and develop at a normal rate. The Vitamin D is completely vegan and comes from algae. Healthwell Kids Multivitamin also contains the mineral magnesium, which is important for the function of the nervous system and also helps with the absorption of calcium.
Gentle on the stomach
Because we want your child to have the very best, all vitamins and minerals are specially selected in forms that are gentle on the stomach. In addition, the body can absorb them well. For best effect, we have added MCT oil derived from coconut which further helps with absorption, as well as lactic acid bacteria and fiber for the function of the stomach and intestines.
With natural fruits and berries
In Healthwell Kids Multivitamin you will find a natural content of vitamins and minerals from fruits and berries. 25% of the content consists of real fruit and berry powder which is also 100% organic. In addition to giving the powder a delicious taste, this also promotes the uptake of nutrients, as it is a natural composition found in nature.
Tip! Also look at Kids Vitamin C + D3 - tasty chewable tablets with vitamin D and natural vitamin C from acerola.
Dosage and preparation
Healthwell Kids Multivitamin is an easily soluble powder that is mixed into a small amount of water (100-150 ml depending on dosage). The dosage is adapted to the Swedish Food Agency's recommendations that apply to children from 5 years and up. The product is not dangerous for younger children, but in this case it is recommended to use a smaller amount of powder or to drink it less often.
Brand
Product recommendations
Popular
Popular
Vitamin D3 2500 IU
120 caps.
Popular