Bild saknas
Lycopene from tomatoes.- Natural origin
- 15 mg per capsule
- With vitamin C.
Hyaluronic Acid Plus
90 caps.
Popular
Popular
Product description
Nutritional content
Product description
Lycopene from tomato
Lycopene 15 from Healthwell are vegetable capsules with a natural lycopene extract - a carotenoid found in a number of foods such as grapefruit, peppers and rosehips. However, it is tomato that is richest in lycopene of all foods, and therefore we have used tomato extract to produce Lycopene 15. The carotenoids interacts with vitamin C, an antioxidant in the body that is very well documented. The lycopene in the capsules from Healthwell comes only from real tomatoes, not from any synthetic sources, to give you as natural a product as possible. Healthwell's Lycopene 15 contains a complete daily dose of lycopene (15 mg) in a single capsule so you do not need to eat any other supplements to get the right amount.
15 mg lycopene per capsule
Natural source
Vegetable capsule shell
With vitamin C
Vegan
How much lycopene is there in tomato?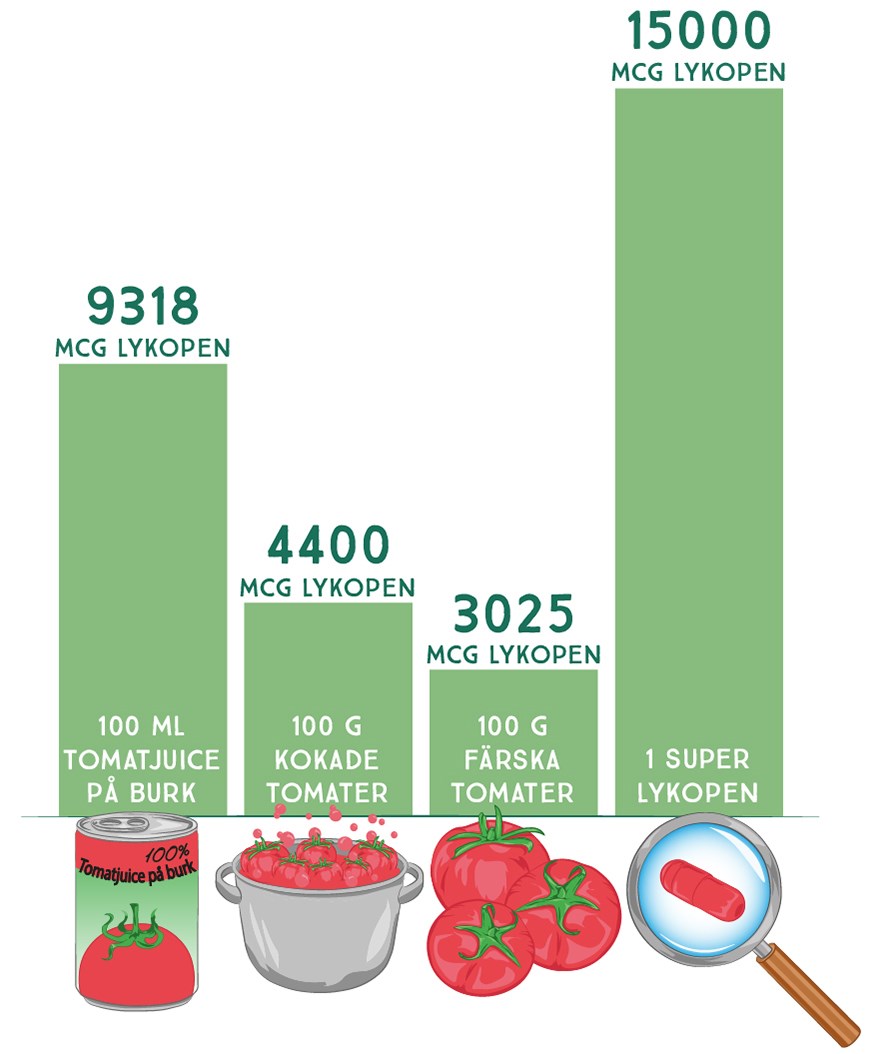 The lycopene is found just underneath the tomato skin and gives it the characteristic red colour. The main rule is the deeper the red colour of the tomato, the more lycopene it contains. However, studies have shown that the amount of lycopene actually increases when the tomatoes are heated, from about 3025 mcg per 100 g for fresh tomatoes to 4400 mcg per 100 g for cooked tomatoes. Even more lycopene is found in canned tomato juice. A problem, especially during the winter months, can be getting enough lycopene, even though you eat tomatoes. The tomatoes that are grown in greenhouses during the winter contain less lycopene than tomatoes that have matured under the sun's rays. Therefore, lycopene from the diet may be an insufficient source during parts of the year, especially if you want a higher intake. Healthwell's Lycopene 15 works excellently as a supplement because it is significantly more highly-dosed than tomatoes in all forms.
What is lycopene good for?
Healthwell's Lycopene 15 is a supplement that contains the antioxidant vitamin C and lycopene. Antioxidants are needed in the body to counteract cell degradation which, among other things, causes premature aging. This process is called oxidative stress and can occur for various reasons: internal factors such as stress and external factors such as weather and wind. Oxidative stress is a natural, biochemical process, but it does not always mean that it is desirable. One way to counteract oxidative stress is by assimilating antioxidants, i.e. substances that thus protect the cells from being broken down. The long-term effects of increased oxidative stress are frequently investigated by researchers, including its association with cardiovascular disease. Vitamin C is a well-researched antioxidant, and lycopene is also being studied to determine whether it has antioxidant properties. A probable result is that lycopene has a greater effect compared to other carotenoids examined, as it contains more double bonds than the others. Namely, the number of double bonds correlates with the positive properties of the lycopene.
Brand
Product recommendations
Hyaluronic Acid Plus
90 caps.
Popular
Popular