Bild saknas
High-dose complex for the brain. - Supports cognitive function
- Q10, ALC and phosphatidylserine
- Fortified with vitamin B12 & B6
Product description
Nutritional content
Product description
Advanced supplement that contributes to mental performance
QURE Brain is a dietary supplement for your brain and mental performance. It contains a high-dose and powerful complex that is adapted to support and maintain mental function. This complex consists of, among other things, coenzyme Q10, Euphoria longana extract, phosphatidylserine and ALC. It is also fortified with vitamins B12 and B6 which contribute to normal psychological function. QURE Brain can easily be combined with QURE BrainBoost in the same series for the best effect. Buy both products in an affordable package here.
For normal brain function*
Advanced and high-dosed complex
Q10, ALC and phosphatidylserine
Fortified with vitamin B12 and B6.
Vegan
The importance of proper nutrition for the brain
Our brains are very complex, and good brain health includes many different things. This includes cognitive function, which refers to your brain's ability to absorb, store, process and produce information. This process can be influenced by several factors, such as our age, lifestyle and the nutrition we get. In QURE Brain, we have selected some of the most talked about topics when it comes to brain health, so that you get the best conditions to keep your brain in top shape.  
Q10 and aging
QURE Brain contains a high dose of coenzyme Q10 (ubiquinone). Q10 is found naturally in the body, mainly in organs such as the heart and brain where it acts as a powerful antioxidant that protects the body's cells against oxidative stress. It is also involved in converting energy from the food we eat into energy that the cells can use as fuel. This conversion takes place in the mitochondria, where the energy of the cells is produced and where Q10 plays a significant role.
We can produce Q10 in our bodies ourselves, but as we get older, production decreases. In a study(1), researchers examined the Q10 levels in the organs of individuals between 0-81 years of age. The results showed that the levels in the heart tissue were at their highest in the 20s, and then began to decline gradually with age. As early as in the 40s, the levels had decreased by about 30%, and in the 60s by as much as 50%. Lack of Q10 can, among other things, manifest itself as mental and physical weakness.
ALC for natural energy production in the brain
QURE Brain also contains ALC (acetyl-L-carnitine), an amino acid that is produced naturally in the body. ALC plays a role in energy production as it acts as a transporter of fatty acids from the diet into the cells' mitochondria where the fat is converted into energy. ALC is also considered to act as an antioxidant that protects the body's cells from oxidative stress. ALC has the ability to easily cross the blood-brain barrier and get all the way into the mitochondria of brain cells (2), which can make the substance particularly interesting in terms of brain aging.
Phosphatidylserine is found naturally in cell membranes
Phosphatidylserine is a so-called phospholipid that is found naturally in cell membranes, including in the brain. Phospholipids contribute, among other things, to normal signaling in the cells, to the breakdown of fat and to regulate hormone activity. As we age, our levels of phosphatidylserine are affected, and since the substance is a component of many important cognitive processes, it is important that we have adequate levels of it in the body. QURE Brain contains 200 mg of phosphatidylserine per capsule with a high proportion of active substance.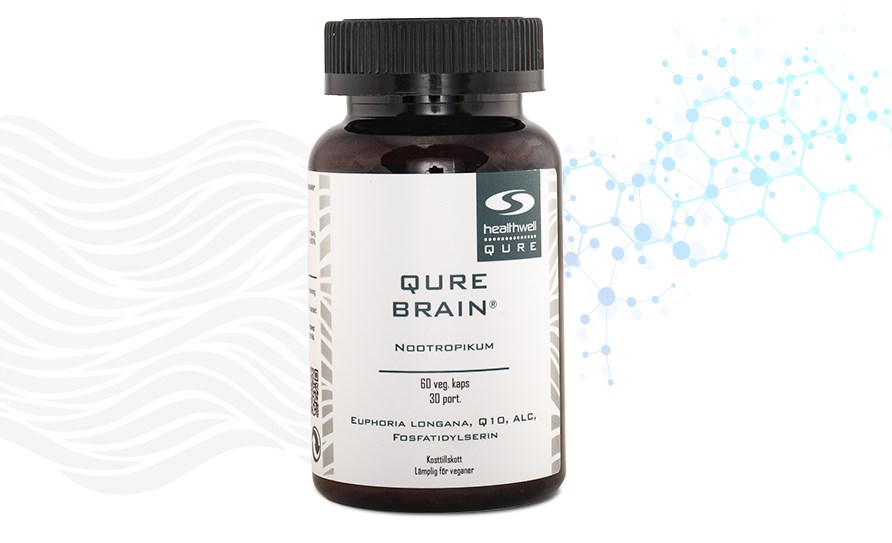 QURE Brain contains well-known substances for brain health.
B12 and B6 for normal brain function
QURE Brain is also fortified with vitamin B12 and vitamin B6 which contribute to the normal function of the brain*. Vitamin B12 contributes to normal psychological function and to the formation of neurotransmitters that are necessary for optimal brain function. Vitamin B6 contributes to normal psychological function, to the normal function of the nervous system and to reducing fatigue and exhaustion.
Vegetarian Friendly
The symbol Vegetarian Friendly indicates that the product's content is plant-based. The product is also suitable for vegans.

References:
1. Anders Kalén, Eeva-Liisa Appelkvist, Gustav Dallner. 1989. Age-related changes in the lipid compositions of rat and human tissues. Lipids24, 579–584. (Retrieved 2021-01-25)
2. Graciela S Ribas, Carmen R Vargaz, Moacir Wajner. 2014. L-Carnitine supplementation as a potential antioxidant therapy for inherited neurometabolic disorders. (Retrieved 2021-02-19)
Brand
Product recommendations