Bild saknas
New
You have to select your country to purchase this product.
Product description
Nutritional content
Shipping & payment
Product description
The complete package for brain health
QURE Brain and QURE BrainBoost are two advanced complexes that support mental function in different ways. Both products are highly-dosed and are aimed at those who want to support, maintain and boost their cognitive abilities. QURE Brain and QURE BrainBoost complement each other and can be taken together for best results.
Support and maintain cognitive ability
Mental performance
Can be combined for the best effect
Vegan supplements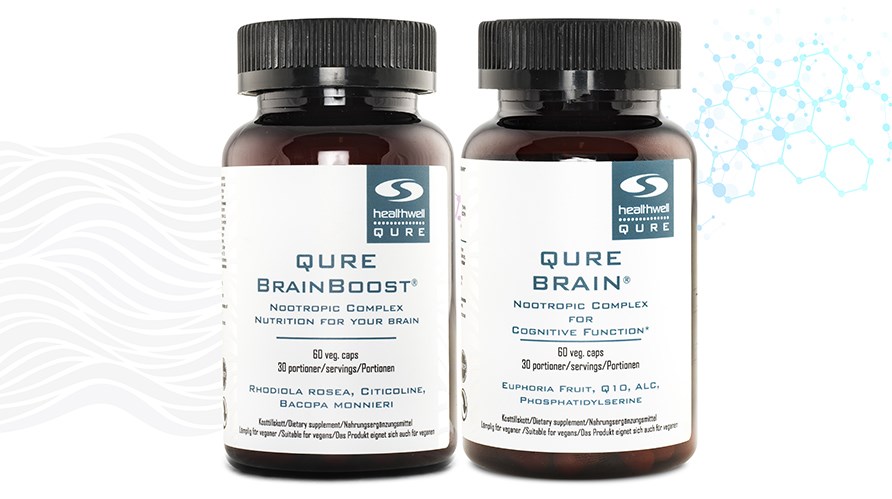 QURE Brain and QURE BrainBoost support cognitive ability in different ways.
Keep your brain in top shape
QURE Brain and QURE BrainBoost are high-dosed supplements for your mental performance and brain, with a focus on both short-term and long-term cognitive ability. QURE Brain contains a highly-dosed and powerful complex that is adapted to support and maintain mental function. This complex consists of, among other things, Q10, Euphoria longana extract, phosphatidylserine and ALC. It also contains vitamins B12 and B6 which contribute to normal psychological function. Read more about QURE Brain.
QURE BrainBoost is perfect in situations where you want to be able to focus and perform at your best. The supplement contains natural caffeine which provides an invigorating effect. It also contains citicoline as well as the adaptogenic herbs rhodiola rosea and Bacopa monnieri. The complex is fortified with vitamin B6 and iodine which helps reduce fatigue, increase focus and support cognitive function. Read more about QURE BrainBoost.
Tip! Take QURE BrainBoost in the morning for focus and mental performance during the day, and QURE Brain in the evening to support your cognitive ability over time.
Brand