Bild saknas
Curcumin with high uptake. - Liposomal supplement
- Lecithin protected
- Antioxidant

You have to select your country to purchase this product.
Hyaluronic Acid Plus
90 caps.
Popular
Popular
Product description
Nutritional content
Shipping & payment
Product description
liposomal turmeric
QURE Liposomal Curcumin is one of our most advanced supplements, which thanks to its liposomal form gives you curcumin from turmeric with an extra high bioavailability. The fact that the supplement is liposomal means that the curcumin is encapsulated in lecithin bubbles which protect the substance so that the uptake is higher than in traditional supplements. QURE Liposomal Curcumin gives you 100 mg of lecithin-protected curcumin per serving.
Higher absorption capacity
Lecithin-protected curcumin
100 mg curcumin per portion
Antioxidant
Curcumin with a high absorption capacity
QURE Liposomal Curcumin is made with an advanced technology where liposomes are used to increase the bioavailability of nutrients. Liposomes are fat bubbles of lecithin (phospholipids), which encapsulate the substance and protects it. The uptake starts in the mucous membranes of the mouth. The substance can pass through the acidic environment of the stomach without being destroyed, and arrive protected to the intestines where it is further absorbed. Because our cell membranes are also made up of phospholipids, the liposomes can pass the cell walls more easily in a targeted way, and are transported to the cells where they are useful. Studies have shown that liposomal supplements have much better absorption capacity than traditional supplements. For the fastest absorption, place the liquid under the tongue and hold for 30 seconds and then swallow. You can also choose to swallow immediately or mix into a glass of water or juice.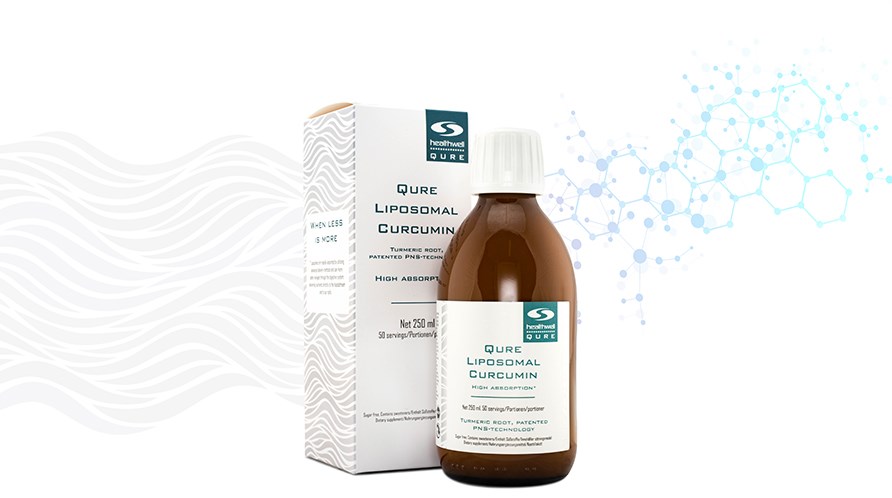 QURE Liposomal Curcumin with high bioavailability.
Powerful antioxidant
Curcumin is considered to be the main active ingredient in turmeric, and is also the most talked about. Curcumin is a so-called curcuminoid, which is a type of polyphenol. Polyphenols are found naturally in the plant kingdom, where they act as powerful antioxidants that protect plants from attacks and damage. These antioxidants have also been linked to a number of health benefits for us humans, such as their ability to reduce the oxidative stress in the cells and contribute to a normally functioning immune system. With QURE Liposomal Curcumin, you can rely on your daily intake of curcumin thanks to the high bioavailability.
Storage of liposomal supplements
Liposomal supplements are heat sensitive. Opened packaging should therefore be stored in a refrigerator, and should be consumed within 2 months.
Brand
Other customers have bought