Bild saknas
Keep your life full of movement! - Turmeric
- Antioxidant
- With curcumin
Product description
Nutritional content
Product description
Turmeric with curcumin
Healthwell's turmeric supplements are suitable for those who want a healthy, mobile and full life. Curcumin is an extract from turmeric that has long been recognised for its health-promoting effects. Among other things, curcumin is full of antioxidants, which means that it helps protect the cells from being broken down by free radicals. Turmeric from Healthwell is completely plant-based and contains natural extracts from turmeric.
For a life in motion
Pure extract from turmeric
With curcumin
Antioxidant
Plant-based supplement
What is turmeric good for?
Turmeric is an herb that, in recent years, has received lots of attention for its positive properties for the body's joints. The active substance in turmeric is called curcumin, and is the substance that gives turmeric the powerful yellow-orange colour. Curcumin is known for its health-promoting properties and is also a strong antioxidant. Antioxidants help maintain a normal immune system as they reduce the oxidative stress in the cells, and much research is being carried out on turmeric and its health benefits.
Where does turmeric come from?
Turmeric has been a popular part of folk medicine in Asia for several thousand years. Especially in Ayurvedic medicine, turmeric has been used to relieve problems such as stomach pain and to contribute to a functioning immune system. The powerful spice is also an important part of the food tradition in Asia, where it plays an important role in curry dishes.
Turmeric is an herb that comes from the same plant family as ginger, but is slightly milder in taste. The spice turmeric is made from the root of the plant and is wonderfully orange-yellow in colour.
Side effects of turmeric
For those who have a sensitive stomach, it may be a good idea to be careful about adding too much turmeric to the food, as the sour turmeric can lead to mild stomach problems. Therefore, remember to adapt the seasoning based on yourself and how sensitive you are. The recommended dosage of Heathwell's Turmeric is 1-2 tablets daily to get enough of the pure turmeric extract. The dosage is designed so as not to cause any side effects.
Popular with health enthusiasts
Recently, turmeric has received a real boost among health enthusiasts and on social media. Typical recipes containing turmeric include healthy morning shots and juice drinks with the powerful spice. Feel free to mix ginger, lemon and turmeric for a wonderfully nutritious shot that gives your body lots of nutrients.
Be inspired by the powerful properties of turmeric and try Turmeric from Healthwell today!
Vegetarian Friendly
The symbol Vegetarian Friendly indicates that the product's content is suitable for vegetarians and vegans.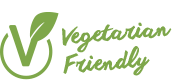 Brand
Product recommendations