Bild saknas
Detox package that cleanses the body.- 14-day detox
- Nutrient powder and greens
- Detox capsules morning & evening
Product description
Nutritional content
Product description
Detox package that cleanses the body
Healthwell's 14-day Detox contains all the supplements you need to complete a healthy and effective detox in 2 weeks. During a detox, you cut down on foods that cause waste products in the body while replenishing with good nutrients. This means that nutrient uptake is promoted and you may feel more alert. In addition, you get the wonderful feeling of having cleansed your body. It is also possible to use the products for a more concentrated and intense 7-day detox.
Healthwell's Detox Package contains:
Shaker
Information leaflet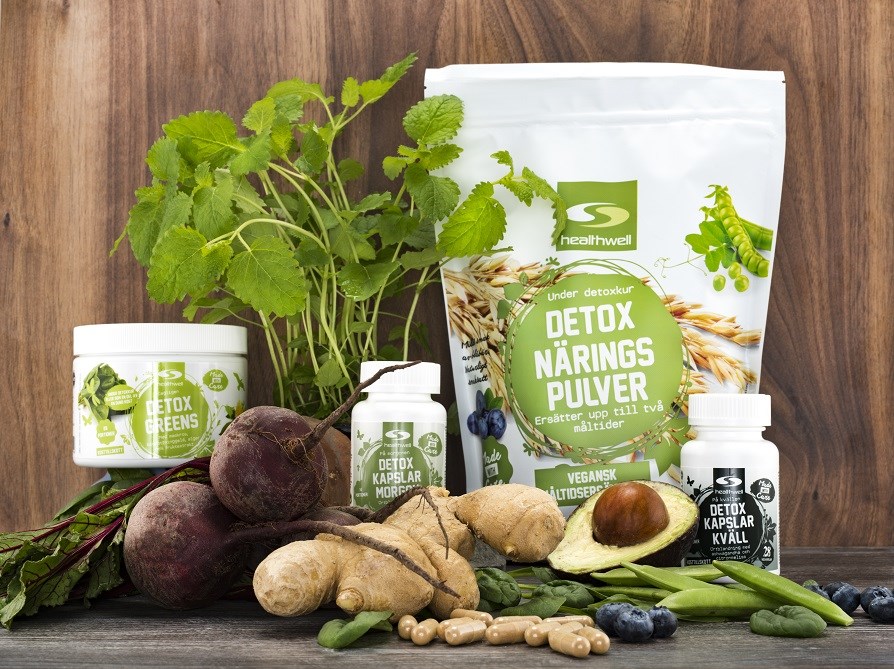 The detox package from Healthwell contains both detox products and good advice on food and exercise.
What is included in the detox program?
In the 14-Day Detox Package, you get two different capsules, a nutritional powder and a vegetable mix. If you wish, you can also add, for example, Healthwell's Detox tea, which works well to drink between meals during your detox. In the leaflet that comes with the 14-Day Detox, you also get tips and advice on which foods to choose and which to avoid during a detox as well as advice on training during an intense detox. Healthwell's 14-Day Detox simply prepares you for a successful cleanse!
Tip! Don't like the taste of the nutritional powder? Try mixing it with fresh berries for a better taste! Feel free to use sour flavours such as raspberries, blackberries or lime.
Plan your detox
Since a detox entails a certain strain on the body, it is a good idea to plan it well so that the first week doesn't clash with, for example, a stressful period at work. A tip is to reduce coffee and sugar, among other things, in the days leading up to your detox. This prevents the body from getting a shock when you then start avoiding these foods altogether.
This is how a detox affects the body
A lot of people who do a detox feel that the body has not fully recovered from, for example, stressful periods or periods of unhealthy eating. During a detox, you focus on eating healthily so that the body can effectively get rid of waste products and leftovers, which often leads to you feeling more alert. As this detox regimen contains a lot of vitamins and minerals, it is also possible that you will notice an improved quality in your hair, skin and nails. The biggest advantage of a detox, however, is that you give the body an extra boost to be able to absorb nutrients in the right way without waste products.
Because you regulate and control your diet carefully during a detox, you may lose weight during the detox period, which is completely natural. However, a detox should not be used as a long-term diet, but rather be the beginning of a new, healthy lifestyle.
Create the right conditions for a detox:
Get the supplements and products needed, follow the instructions carefully and mentally adjust to what the detox will mean.
At first it might feel tough, but with this package and your willpower, you have taken a big step towards cleansing your body.
10 tips for a successful detox
1. In order for you to succeed with your detox, you first need to find out why you are undergoing a detox.
What is the purpose of the detox?
Why do you do a detox?
What do you want out of a detox?
What is your goal?
2. A detox is demanding and puts your character to the test. If you know that you usually snack or easily get tempted by junk food, clean out the fridge and pantry of junk and temptations before you start your detox
3. As the point above mentioned, a detox is hard work. Mentally prepare yourself for it being demanding, but it will only be for a short period and you will feel much better after the detox than you did before.
4. It's okay to call off a detox. If you feel that it's too stressful or that you can't cope with everyday life, you should end your detox, and that's fine!
5. Water, water, water. If cravings for sweets or hunger persist, drink water. There is nothing as fulfilling in the stomach as water. In addition, it helps to cleanse the body.
6. If you get tired of water, replace it with a warming cup of Healthwell's Detox tea or organic herbal tea.
7. Make it easier for yourself by planning, making lunch boxes and presenting what you are going to eat the day before.
8. Only buy the ingredients and foods you are allowed to eat during your detox. Make sure you already have everything at home so that you can avoid temptations in the supermarket.
9. Do the detox with someone else to motivate each other.
10. Before you start your detox, think about what you want out of it afterwards.
How you will eat?
What foods can you eat less of or remove?
What foods do you want to add to your diet?
How many times a week will you exercise?
Brand
Product recommendations