Bild saknas
Diosmin and hesperidin. - Active flavonoids
- Beneficial mixture
- Plant-based capsules
Popular
Popular
Popular
Product description
Nutritional content
Product description
Supplement with diosmin and hesperidin
Healthwell Diosmin + Hesperidin contains high-dose extracts of the two active and natural flavonoids diosmin and hesperidin, both of which come from the citrus fruit Citrus aurantium. Combining diosmin and hesperidin is common as they work in the same areas. In recent years, flavonoids have begun to be studied more and more due to their antioxidant properties.
Beneficial mix of diosmin and hesperidin
High-dose extracts
Natural flavonoids
Antioxidant properties
Plant-based capsules
What are flavonoids?
Flavonoids are, among other things, what give fruits and vegetables their different colours. They sit in or just below the peel. With their antioxidant properties, flavonoids protect against free radicals, which in turn can cause oxidative stress. Diosmin and Hesperidin are two active flavonoids that are naturally found in citrus fruits, among other things. The extracts of Healthwell Diosmin + Hesperidin come from the citrus fruit Citrus aurantium. Both are highly dosed and extracted in a way that retains as much of the substances as possible. This means that the diosmin extract contains as much as 90% diosmin and the hesperidin extract 95% hesperidin, which is very high.
What is oxidative stress?
To breathe, we need oxygen. When oxygen is metabolized in the body, however, free radicals are formed at the same time. They are very reactive, and even though we humans need reactive substances to a lesser extent, oxidative stress occurs when the levels become too high. This in turn damages cells and tissues. When we are exposed to stress, for example when we smoke, work hard or become ill, the amount of free radicals can increase.
The combination of diosmin and hesperidin
The combination of the two potent substances diosmin and hesperidin is well-studied. They are often used together as they operate in the same areas. The advocated relationship between the flavonoids is 90/10, i.e. 90% diosmin and 10% hesperidin, which is the distribution in Healthwell Diosmin + Hesperidin. Both diosmin and hesperidin have been shown to be of interest in several studies. Among other things, they have attracted attention in studies of venous conditions and diseases (1, 2). In addition, hesperidin has been studied for its properties in relation to respiratory problems (3).
References
Ulloa, Jorge. 2019. Micronized Purified Flavonoid Fraction (MPFF) for Patients Suffering from Chronic Venous Disease: A Review of New Evidence. (Retrieved 2022-01-25)
Lyseng-Williamson Katherine & Perry, Caroline. 2003. Micronised purified flavonoid fraction: a review of its use in chronic venous insufficiency, venous ulcers and haemorrhoids (Retrieved 2022-01-25).
Okasha, Kamal Mohammed. 2020. Hesperidin and Diosmin for Treatment of COVID-19 (Retrieved 2022-01-25)
Vegetarian Friendly
The symbol Vegetarian Friendly indicates that the product's content is suitable for vegetarians and vegans.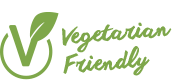 Brand
Product recommendations
Popular
Popular
Popular