Bild saknas
Castor oil for hair and skin. - Organic oil
- Cold pressed
- Popular in hair care
Popular
Popular
Popular
Product description
Contents
Product description
Castor oil for hair and skin
PURE Castor Oil ECO is an organic, cold-pressed oil from the seeds of the castor plant Ricinus communis. With the help of careful selection and careful handling, the castor oil from PURE becomes very high quality and retains all the good properties of castor seeds. In addition, the oil is completely free of additives and consists only of the finest oil that cares for both skin and hair. Castor oil is often used in various types of hair wraps, facial oils and skin oils and it is easy to understand why. The oil has both a fat-dissolving effect, which is excellent on oily and inflamed skin, at the same time as it nourishes and binds moisture for dry skin. Castor oil is often found on ingredient lists for cosmetics, hair care and medicines. Use PURE Castor Oil ECO when you mix your own soaps, massage oils or hair wraps to get a soft and nourishing result.
Organic castor oil
Cold pressed
Popular oil for hair care
Used in make up
Adds moisture to the skin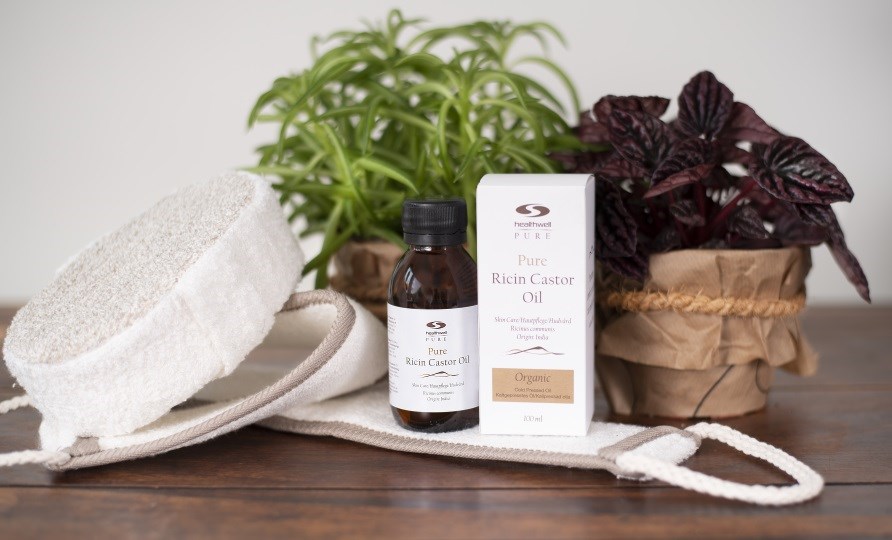 To use castor oil on face and hair
The fatty castor oil can be difficult to use alone when applied to the body because it has a relatively slow-flowing consistency. To create a caring hair wrap, you can mix PURE Castor Oil ECO with jojoba oil, which makes it easier to work with. Apply the oil mixture to damp hair by massaging it into the scalp and working your way outwards towards the tips. Leave on for a few minutes to several hours and wash thoroughly with shampoo to get rid of any oil residue. The purpose is to let the oil stimulate the scalp, soften and create shine.
On the face, castor oil can be used both as a cleanser and as a skin cream. Try making your own toner at home with just a few ingredients. The oily formula can give good results on oily and acne-prone skin because it has a loosening effect on dirt and clogged pores. Keep in mind, however, that the oil is very powerful and can become dehydrating if used alone, so it is better mixing with other oils. Jojoba oil is suitable if you have acne problems and almond oil is an incredibly moisturising oil - both can be mixed with caster oil. After a cleansing with castor oil, the skin becomes full of radiance and feels pleasantly fresh. The method using castor oil with, for example, olive oil as a deep cleanser is called The Oil Cleansing Method. It involves massaging castor oil and olive oil on the face and applying a damp warm towel to open the pores before wiping the oil off.
PURE Castor Oil ECO can also be used for organic makeup. Castor oil is especially suitable in lipstick and lip gloss because of its creamy formula that keeps the colour in place very well.
Brand
Product recommendations
Popular
Popular
Popular