Bild saknas
100% plant-based and natural soap base. - Easy to handle
- Odourless and colourless
- 70% organic content
Product description
Contents
Product description
100% natural soap base
Make your own soap with Healthwell Soap Base! Our soap base has 100% plant-based and natural content, and as much as 70% organic ingredients. Making your own soap is kinder on both you and the environment. It's also a really nice gift to give away to someone you care about! Because the soap base is transparent and odourless, you can colour and scent it exactly as you wish. One package (500 g) is enough for as many as six bars of soap, which makes the product both high-quality and affordable.
Easy to handle soap base
Odourless and colourless
100% plant-based and natural
70% organic content
Free from parabens, SLES, SLS and ethanol
Created with complete environmental and sustainability thinking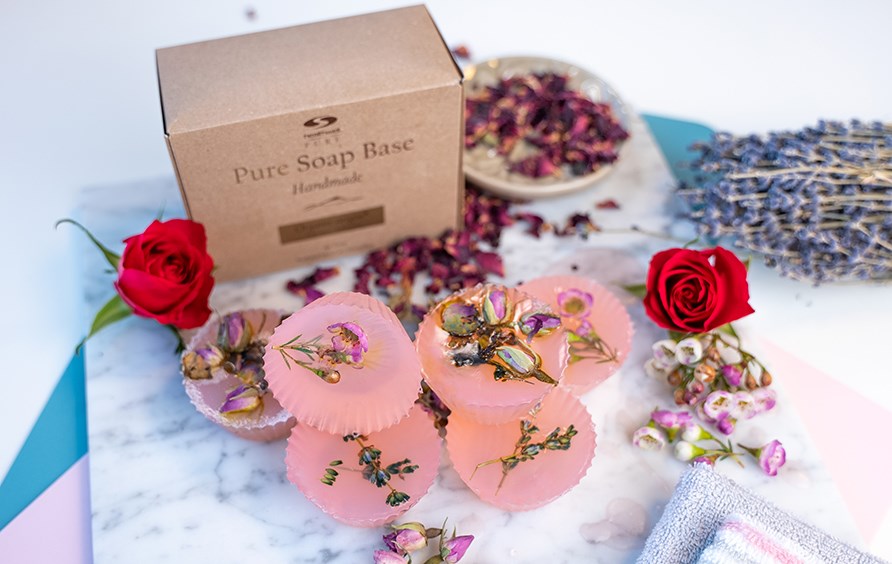 Better for you and the environment
By making your own soap, you can avoid substances that can be harmful to you and the environment. Healthwell Soap Base has 70% organic content and is completely free from parabens, SLES (sodium lauryl sulphate), SLS (sodium lauryl sulphate) and ethanol. Its content is 100% natural and completely plant-based. The soap foams well and has a very moisturizing formula that takes care of the skin.

The entire product chain, from production to finished product, has a focus on sustainability. The packaging and wrapping paper around the soap are made of natural paper. It has a very thin, barely noticeable plastic on the inside. This is for the durability of the soap. In addition, the product has obviously not been tested on animals.
Make your own soap - flexible and easy
With Healthwell Soap Base, it's both easy and fun to make your own soaps. Simply melt the soap base in a water bath. You can then scent the soap base with essential oils to your liking and taste. Some popular oils are, for example, lavender oil which is soothing and calming, or lemon oil which is invigorating and stimulating. To give the soap a lovely colour, you can use a soap colourant that is specially developed for soap making. You can also add beautiful decorations such as dried flower petals, flower buds or slices of, for example, dried lemon, orange or lime. Then pour into soap molds and allow to cool. Store the finished soap in baking paper for the best durability.
Brand