Bild saknas
Capsules with garlic extract. - Equivalent to 3-4 cloves of garlic - 2% allicin
- Take daily or for periods of time
Popular
Popular
Popular
Product description
Nutritional content
Product description
High-dose capsules of garlic extract
Healthwell Garlic is a high-dose supplement with 400 mg of concentrated garlic extract per dose, which corresponds to 3-4 garlic cloves. With as much as 2% allicin, the active ingredient of garlic that gives it its smell and taste. Garlic is a popular ingredient in several home remedies and is known for its many uses. Healthwell Garlic can be taken both as a daily supplement or as needed during certain periods.
400 mg garlic extract (75:1)
Equivalent to 3-4 garlic cloves
2% allicin
As a daily supplement or during certain periods
Vegan with plant-based capsules
Garlic - common in home remedies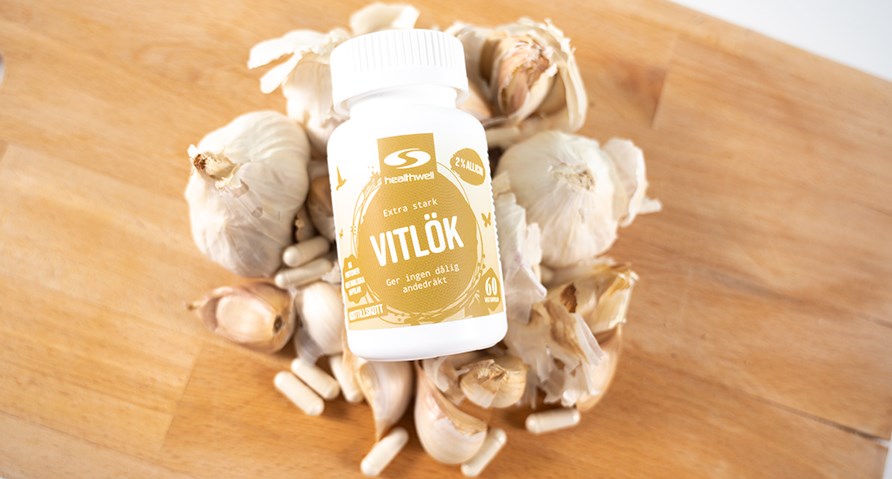 Healthwell Garlic contains as much as 2% allicin, which is the active ingredient in garlic.
Garlic is a popular ingredient in most kitchens, but not just for its delicious and flavour-enhancing properties. The herb is traditionally a common ingredient in many home remedies, especially those that are usually taken to help with colds. For example, it is common to mix garlic cloves with honey and then take them together. The herb is also said to keep ticks at bay and is therefore extra popular to take during tick season.
What is garlic good for?
Garlic contains several important vitamins and minerals, including vitamin C, vitamin K, magnesium, calcium and zinc. In addition, the herb has a high content of sulfur compounds, which is what is believed to be what gives garlic its many health benefits. The active substance allicin is one of these sulfur compounds.
In recent years, garlic has been popular to study in several different contexts. Among other things, there are several studies on the antiviral potential of garlic and its possible effect on the immune system (1, 2). The herb has also been highlighted in several studies and articles regarding cardiovascular health (3, 4). Allicin is also thought to have several antimicrobial properties (4). In addition, garlic has been studied as a repellent against ticks and a possible effect has been demonstrated (5). However, all studies show some differences in terms of results and certainty, and therefore more research is needed on the health effects of garlic to be able to say anything certain.
What does Healthwell Garlic consist of?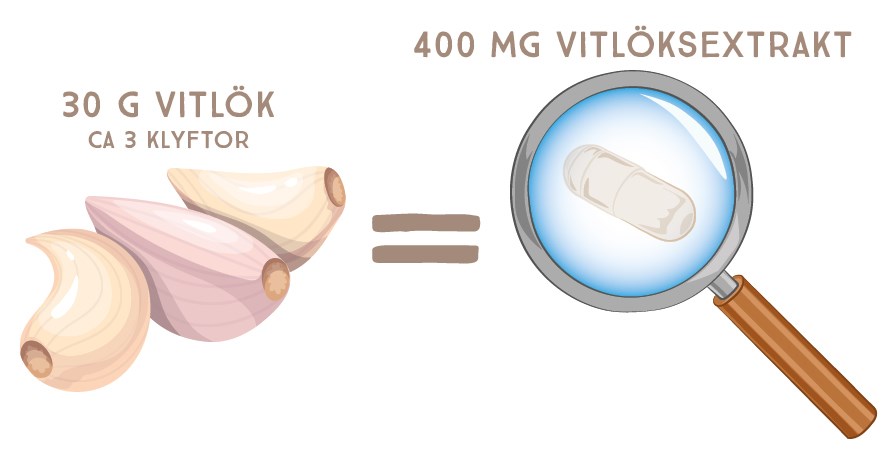 Healthwell Garlic is designed so that you get the most out of each dose. Therefore, the supplement contains 400 mg of concentrated garlic extract in a ratio of 75:1. This means that one dose corresponds to 3-4 cloves of garlic. In order to preserve the active ingredient allicin, which gives garlic its characteristic odour and taste, Healthwell Garlic is not odourless. The scent is a proof that the product is designed as it should be and that it contains the right amount of allicin, in this case 2%. However, the supplement does not give you bad breath.
How to dose Healthwell Garlic
Healthwell Garlic can be taken both as a daily supplement or as needed during certain periods. 1 capsule contains 400 mg of garlic extract, which corresponds to 30 grams of garlic, i.e. 3-4 cloves of garlic. Take 1 capsule daily or up to 4 capsules per day if needed, which should be spread throughout the day. Since the capsules do not affect your breath, there's no need to worry about taking Healthwell Garlic at any particular time.
References
1. Rouf, Razina. Uddin, Saikh Jamal et al. 2020. Antiviral potential of garlic ( Allium sativum) and its organosulfur compounds: A systematic update of pre-clinical and clinical data. (Retrieved 2022-05-06)
2. Arreola, Rodrigo, Quintero-Fabián et al. 2015.Immunomodulation and anti-inflammatory effects of garlic compounds. (Retrieved 2022-05-06)
3. Schwingshackl, Lukas, Missbach, Benjamin et al. 2016. An umbrella review of garlic intake and risk of cardiovascular disease. (Retrieved 2022-05-09)
4. Varshney, Ravi & Budoff, Matthew J. 2016. Garlic and Heart Disease. (Retrieved 2022-05-09)
5. Ankri, S & Mirelman, D. 1999. Antimicrobial properties of allicin from garlic.(Retrieved 2022-05-06)
6. Nchu, Felix, Magano, Solomon R et al. 2016. Repellent activities of dichloromethane extract of Allium sativum (garlic) (Liliaceae) against Hyalomma rufipes (Acari). (Retrieved 2022-05-06)
Brand
Product recommendations
Popular
Popular
Popular