Bild saknas
For reduced fatigue & exhaustion.

- Made in Sweden
- Vegetable
- Normal psychological function
Hyaluronic Acid Plus
90 caps.
Popular
Popular
Product description
Nutritional content
Product description
Niacin with significant functions
Niacin, or vitamin B3 as it is also called, is a vitamin with many important functions in our bodies. For example, niacin contributes to normal psychological function and to reducing fatigue and exhaustion. With Niacin 500, you won't get reddened skin.
Contributes to psychological function
Reduces fatigue and exhaustion
Does not cause flushes
Vegetable supplement
Made in Sweden
Healthwell Niacin 500 is a dietary supplement with as much as 500 mg of niacin per dose. In this supplement, the niacin appears in the form of niacinamide, also called nicotinamide, which can be taken in larger quantities without getting so-called flushes. The reaction to flushes is characterized by a burning, hot or stinging sensation on the face and chest, as well as red or flaming skin. However, this reaction is normally harmless and transient. But with Niacin 500 you don't have to worry about this effect.
What is niacin good for?
Niacin (vitamin B3) contributes to energy metabolism and the normal functioning of the nervous system. In addition, the vitamin is also important for the maintenance of normal skin and mucous membranes in the throat, eyes and intestines, for example. Niacin is also important for breaking down fat, carbohydrates and protein.
Where is niacin found naturally?
Niacin is found in meat, fish, chicken and offal, which are the richest sources of the vitamin. Other good sources include nuts, pulses and whole grain products.
Does niacin have any side effects?
There is no evidence that niacin in food can cause adverse health effects. At doses between 30-1000 mg, however, skin redness may occur, what we call flushes earlier in the text. Even higher doses can have an effect on the liver and stomach. Therefore, follow the dosage recommendation to avoid side effects.
Vegetarian Friendly
The symbol Vegetarian Friendly indicates that the product's content is suitable for vegetarians and vegans.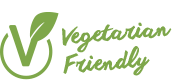 Brand
Product recommendations
Hyaluronic Acid Plus
90 caps.
Popular
Popular