Bild saknas
Daily supplement with PABA.- Para aminobenzoic acid
- 300 mg
- Vegetable capsules
Hyaluronic Acid Plus
90 caps.
Popular
Popular
Product description
Nutritional content
Product description
PABA - para aminobenzoic acid
Healthwell PABA 300 is a high-dose supplement with PABA (paraaminobenzoic acid) that contains as much as 300 mg of PABA per capsule. Paraaminobenzoic acid is sometimes also called vitamin BX, as the substance has vitamin-like properties and is often included in vitamin B complexes. PABA promotes, among other things, the uptake of vitamin B5, folic acid and protein. With plant-based capsules and vegan content Take one capsule of PABA 300 1-3 times daily before meals.
Para aminobenzoic acid
300 mg per capsule
Important functions in the body
PABA promotes the uptake of folic acid, protein and vitamin B5
Plant-based capsules
What is PABA good for?
Paraaminobenzoic acid, PABA, is a vitamin-like substance that has several important functions in the body. Among other things, it contributes to protein metabolism and the formation of red blood cells. PABA is used in the intestinal flora to form folic acid, and also promotes the uptake of folic acid, vitamin B5 and protein from the diet. PABA stands for para aminobenzoic acid and is sometimes referred to as vitamin BX because of its properties that are reminiscent of B vitamins. This is why it's often part of B-vitamin complexes and supplements for hair, skin and nails.
Where is PABA found?
PABA is to some extent produced by the body itself in the intestines by bacterial flora. In foods, it is found in, for example, eggs, liver and sunflower seeds. A convenient way to ensure your intake of PABA 300 is a supplement like this. The recommended dosage is 1 capsule up to 3 times per day before a meal. Take the supplement before meals.
Does PABA have side effects?
PABA has no side effects at lower doses. In extreme doses (> 8000 mg) it can cause fever, nausea and liver problems. Always follow the recommended dosing instructions to counteract side effects. The recommended intake is 10-25 mg per day.
Vegetarian Friendly
The symbol Vegetarian Friendly indicates that the product's content is suitable for vegetarians and vegans.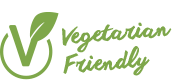 Brand
Product recommendations
Hyaluronic Acid Plus
90 caps.
Popular
Popular