Bild saknas
Organic rosehip seed oil. - Cold pressed
- Suitable for oily skin
- Suitable for aging skin
Product description
Contents
Product description
Organic rosehip seed oil
PURE Rosehip Seed Oil ECO is an organic, cold-pressed oil made from rosehip seeds of the very highest quality. This popular oil is often used as an ingredient in skincare products for both mature and acne-prone skin, as it provides great glow, is quickly absorbed, and contributes to an even skin tone. The effect of rosehip seed oil comes mainly from various fatty acids and vitamin A, all with many great properties. The rosehip seed oil from PURE can be used with other exclusive PURE oils or mixed in your own skin cream to get your own unique product. PURE Rosehip Seed Oil ECO with seeds from the Rosa Canina rose is free from additives and has been produced with the utmost care to offer a top-quality oil.
Cold-pressed rosehip seed oil
Organic origin
Suits oily and acne-prone skin
Effective anti-age oil
Use as a serum or mix it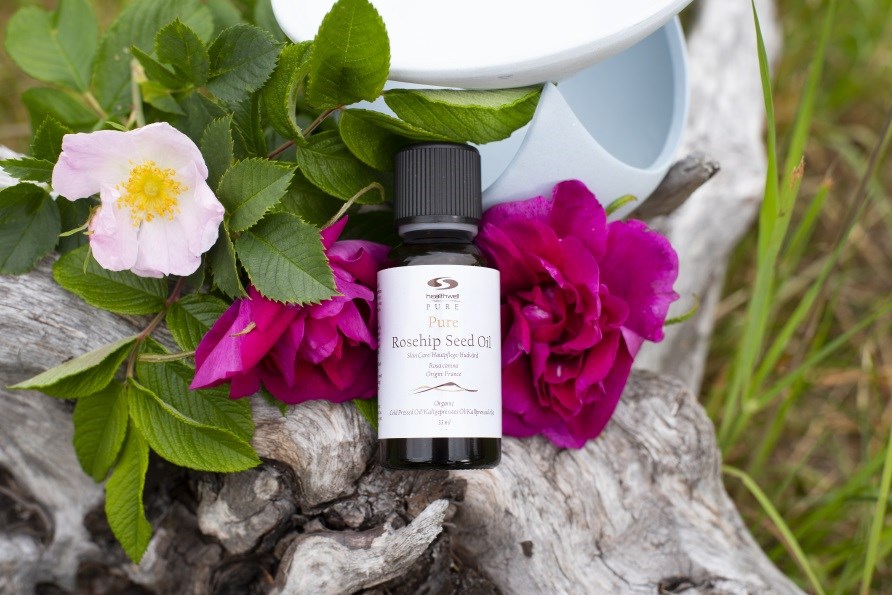 Rosehip seed oil for acne and oily skin
PURE Rosehip Seed Oil ECO contains rosehip seed oil of the finest quality and can be used as a nourishing night serum on oily and acne-prone skin. While the essential fatty acids of the oil nourish, vitamin A and the acid retinol fight impurities. Rosehip seed oil has proven effective for both acne and blemishes, but it also nourishes and smooths out scarring. Because the oil also contains carotenoids, it leaves a wonderful glow, making your skin feel radiant, fresh, and less dull. The rich content of fatty acids, such as omega 3, 6, and 9, means that PURE Rosehip Seed Oil ECO also can be used for mature skin, as they counteract the appearance of fine lines. In addition, rosehip contains antioxidants that protect against cell degradation and premature aging. Use a few drops of the oil as a nourishing serum in your evening routine or mix 10–30% in a facial oil or creme for a milder product. The oil is also great for mixing with other oils, such as argan oil.
More about cold-pressed oil
PURE Rosehip Seed Oil ECO is produced by gentle cold pressing of seeds from the Rosa Canina rose bush. This type of rose grows wild in Europe, northern Africa, and North America, and is commonly known as dog rose. As the flowers of the rose wither, the characteristic rosehips start growing larger and are filled with vitamin-rich seeds. To obtain oil from rosehip seeds, the seeds are gently pressed against each other until the oil can be extracted. One advantage of cold-pressed oil is that no heat is applied, which allows the seeds to retain their nutrients better than if the oil is heated.
Brand
Product recommendations