Bild saknas
Q10 in plant-based capsules. - 200 mg per capsule
- Found naturally in the brain and heart
- Vegan friendly
Product description
Nutritional content
Product description
Coenzyme Q10 with 200 mg per capsule
Healthwell Q10 200 Plus is a plant-based supplement with 200 mg of Q10 per capsule. Q10 is also called ubiquinone and is a substance that is produced naturally in the body. Most Q10 is found around our vital organs such as the heart and brain where it acts as a powerful antioxidant. The substance also plays an important role in the body's energy production, and a lack of Q10 can therefore manifest itself as fatigue and exhaustion. Q10 200 from Healthwell is completely plant-based and is suitable for both vegetarians and vegans!
Coenzyme Q10 (ubiquinone)
200 mg per capsule
Found naturally in the heart and brain
Antioxidant properties
Vegan friendly
What does Q10 do in the body?
Coenzyme Q10, or ubiquinone, is a substance that is found in large parts of the cells in, among other things, the heart and brain. There, it acts as an antioxidant that protects cells from oxidative stress and free radicals. Oxidative stress is a breakdown process of the body's cells that is constantly ongoing, but which can increase when we, for example, sunbathe a lot, smoke or become stressed. Due to the fact that Q10 has these protective properties, it has been raised in many studies on cardiovascular health. Q10 also plays an important role in the cells' mitochondria where energy conversion takes place, and therefore contributes to normal energy production. Fatigue and exhaustion are common symptoms of Q10 deficiency.
We can produce Q10 in our bodies ourselves, but as early as by the age of 30, this production begins to decrease and then continues to decrease with age. A dietary supplement of Q10 can be very helpful in ensuring healthy levels of the substance. Learn more about Q10 and its properties in our article.
Tip! If you want to start with a lower dose of Q10, take a look at Q10 100. If you want a more high-dose supplement, there is Q10 300.
Dosage
Healthwell Q10 200 has a dosage of 1 capsule daily. We recommend that you take the supplement with a meal as Q10 is a fat-soluble substance that requires the presence of fat to be absorbed optimally in the body.
Vegetarian Friendly
The symbol Vegetarian Friendly indicates that the product's content is plant-based. The product is also suitable for vegans.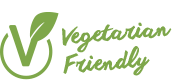 Brand
Product recommendations