Bild saknas
Super Multivitamin Premium
Vitamins and minerals in an optimal dose. - High-dose supplement
- Liquid form
- MCT oil for best absorption
Hyaluronic Acid Plus
90 caps.
Popular
Multivitamin Woman
90 caps.
Popular
Product description
Nutritional content
Product description
Our most comprehensive multivitamin
Super Multivitamin Premium is a comprehensive and highly dosed multi-supplement in liquid form. The supplement is formulated according to our 10 most potent products and contains an optimal dose of the most important vitamins and minerals in the most beneficial forms. With Super Multivitamin Premium, you do not have to keep track of different capsules and tablets - this supplement comprises all of your daily vitamin and mineral supplements into a single supplement so that you can easily be sure of your daily intake. Thanks to the MCT oil content, it is also easily absorbed by the body.
Complete multi-supplement
Vitamins and minerals in an optimal amount
Liquid form
Only one dose per day
MCT oil for best absorption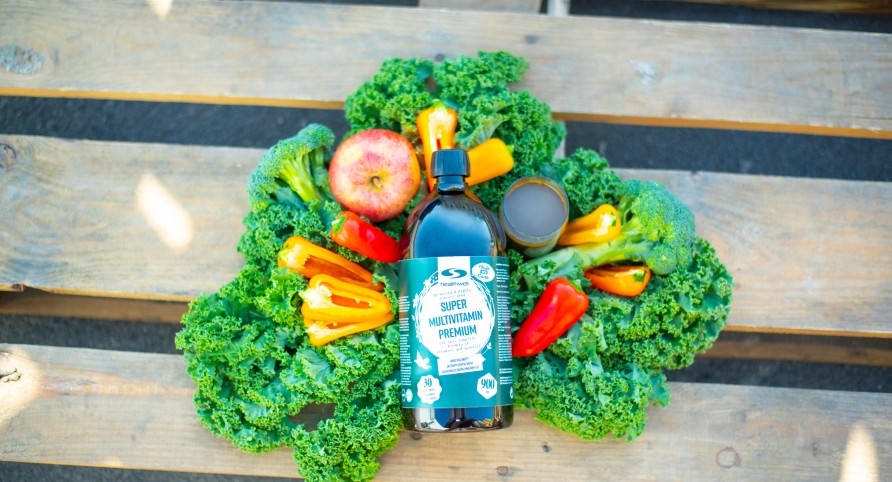 Benefits of liquid multivitamins
A multivitamin in liquid form has several benefits, and it enables a higher dosage of vitamins and minerals than is possible in a capsule or tablet. In Super Multivitamin Premium, we have therefore optimized the amount of the substances inside in order to give you a supplement that is a highly-dosed as possible. Liquid supplements are also easy to both dose and take. For those who have difficulty swallowing capsules or tablets, a liquid multivitamin can be an excellent alternative for ensuring your daily intake.
In Super Multivitamin Premium you get the following products from Healthwell in one and the same product:
Important vitamins in optimal amounts
Super Multivitamin Premium is packed full of all the most important vitamins with vitamins A, C, D3, E, K and all B vitamins in an easily absorbed complex. Vitamin C contributes to the normal functioning of the immune system and also protects the body's cells against oxidative stress. In addition, we have used acid-neutral vitamin C with bioflavonoids, which are both gentle on the stomach and easily absorbed by the body. Vitamin D3 is also important for the immune system, and also contributes to calcium uptake and to the normal functioning of the nervous system. B vitamins support, among other things, the metabolism of fats, carbohydrates and protein and also help with the production of red blood cells.
Super Multivitamin Premium also contains the vitamin-like substances PABA (para-aminobenzoic acid), choline and myo-inositol. PABA is needed for protein metabolism and also contributes to the uptake of folic acid, vitamin B5 and protein from the diet. Choline contributes to fat metabolism and the formation of the fat-emulsifying substance lecithin. Myo-inositol interacts with the B vitamins in a beneficial way and contributes, among other things, to normal cell function.
All essential minerals
Super Multivitamin Premium contains all the most important minerals in the form of magnesium, zinc, selenium, iodine and chromium. One serving gives you a full 350 mg of magnesium in several forms for high bioavailability. Magnesium contributes, among other things, to normal muscle function, energy metabolism and to the function of vital organs. The supplement also contains 25 mg of the antioxidant zinc per dose. Zinc contributes to several important functions, including protecting the body's cells against free radicals and also contributing to the normal functioning of the immune system. Since the body's levels of manganese, copper and iron can be exhausted with a high intake of zinc, we have also added an optimal amount of these.
Use and dosage
Super Multivitamin Premium has a dosage of 30 ml per day and can either be drunk as it is or mixed into the drink of your choice. As the product is very highly-dosed, it should be taken with a meal as some people may experience stomach upset such as nausea if taken on an empty stomach. If necessary, you can also divide the intake and take 15 ml twice daily, for example half after breakfast and half after dinner in the evening.
Brand
Product recommendations
Hyaluronic Acid Plus
90 caps.
Popular
Multivitamin Woman
90 caps.
Popular