Bild saknas
Vitamin C in powder form- Antioxidant
- The immune system
- The nervous system
Hyaluronic Acid Plus
90 caps.
Popular
Vitamin C Capsules
90 caps.
Popular
Product description
Nutritional content
Product description
Pure vitamin C powder from ascorbic acid
Vitamin C powder from Healthwell is a powder that can be easily mixed into any liquid to ensure your daily intake of vitamin C. Vitamin C powder gives you a real boost of vitamin C during cold and flu season or if you have difficulty getting enough through your diet. The vitamin C powder from Healthwell consists of 100% pure ascorbic acid which is an organic acid and antioxidant. Antioxidants are what helps protect the body's cells against free radicals that can be released as a result of stress. In addition, vitamin C also has several other important functions in the body, including contributing to a normally functioning immune system and collagen formation, which is important for the building of cartilage, tendons and ligaments.
100% pure ascorbic acid
For a normally functioning immune system
Contributes to collagen formation
Protects the body's cells against free radicals
Vegan supplement
Measuring cup included
To avoid an upset stomach: For those who consume high levels of vitamin C, you can divide the daily dose into several occasions. Test your stomach tolerance by starting with a small dose and gradually increase it until you reach your desired dosage. Feel free to mix the entire daily dose into a water bottle that you drink throughout the day. You can also mix it with your favourite smoothie.
What is vitamin C good for?
Above all, vitamin C helps in the formation of collagen that is found in all our supporting tissue such as bones, skin, tendons and blood vessel walls. Vitamin C also acts as a powerful antioxidant. This means that it protects our cells against aging and slows down the breakdown of our cells. During periods of high stress, we are more easily exposed to free radicals and we can benefit from consuming extra antioxidants.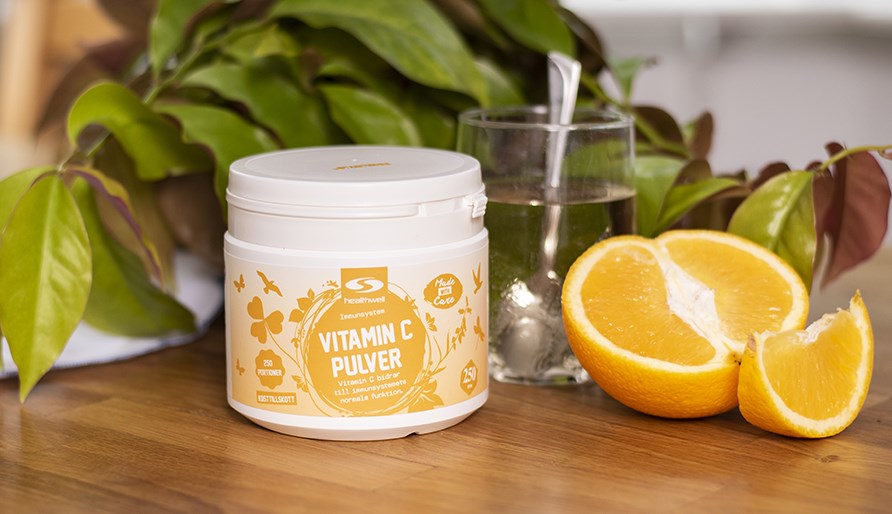 Another well-known effect of vitamin C is that it facilitates the absorption of iron and other minerals. You have probably heard it said that it is good to eat an orange with blood pudding or other iron-rich foods.
Vitamin C is important for both animals and plants and most can produce the vitamin themselves from glucose. But humans and a couple of other animal species do not have this ability, so need to add vitamin C through our diet. Examples of foods that contain vitamin C are vegetables, fruits and offal. However, vitamin C is a heat-sensitive vitamin that is broken down when heated, so it's a better idea to eat vegetables and fruit that are not heated.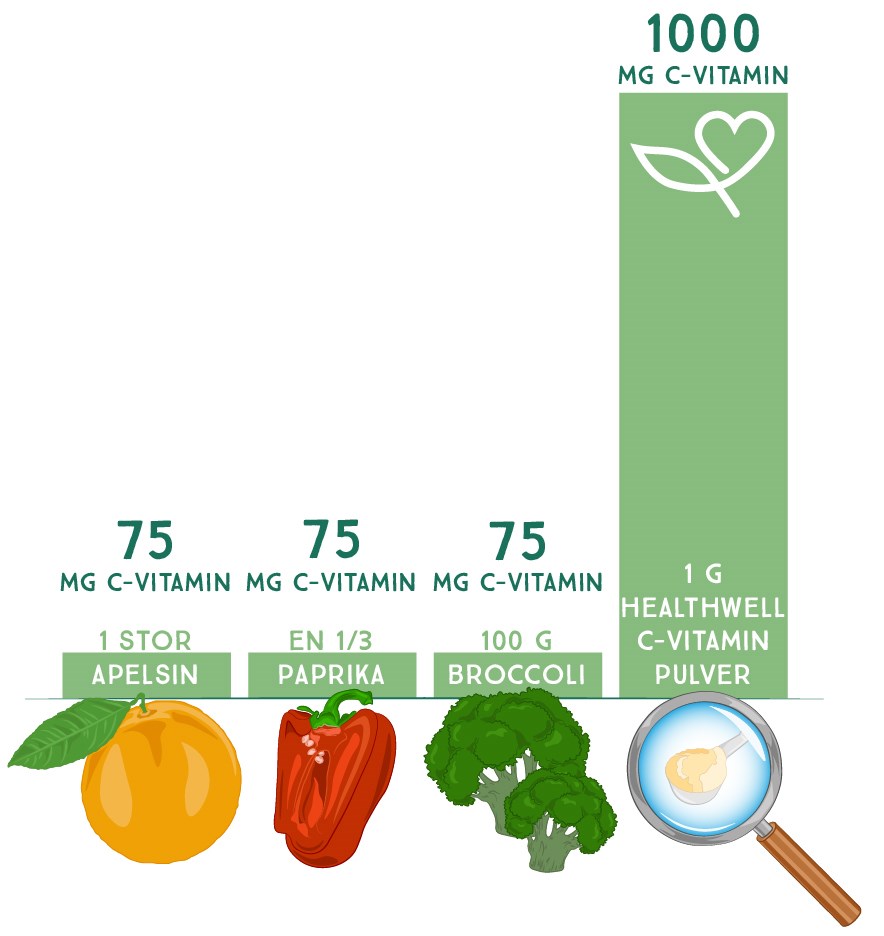 Symptoms of vitamin C deficiency
Vitamin c deficiency is relatively uncommon in many countries today, but it is important to be aware that the National Food Administration's recommended daily dose is at the lowest levels. If you have a mild deficiency of vitamin C, it can cause symptoms such as fatigue, a feeling of weakness or irritation. More serious deficiency is what gives rise to the disease that sailors were known to suffer from known as scurvy. Symptoms of scurvy include inflamed gums, susceptibility to infection and poorer healing of wounds. Fortunately, scurvy is uncommon today.
Tip! Mix a scoop of Vitamin C powder into, for example, a berry smoothie and you will get a real antioxidant boost!
What happens if you get too much vitamin C?
Vitamin C is a water-soluble vitamin, which means that all vitamin excess is transported out of the body via the urine. It is therefore very unusual to have side effects as long as you follow the recommendations on the package.
Vitamin C in a powder form or as tablets?
Vitamin C powder from Healthwell is a convenient way to get the vitamin into your body, simply by mixing it in a liquid. The powder consists of 100% ascorbic acid and each serving gives you 1000 mg of vitamin C. For those who prefer to mix it in a smoothie or find it difficult to swallow tablets, we recommend Vitamin C in powder form. For those of you who think tablets are easier, we recommend Healthwell's Vitamin C capsules.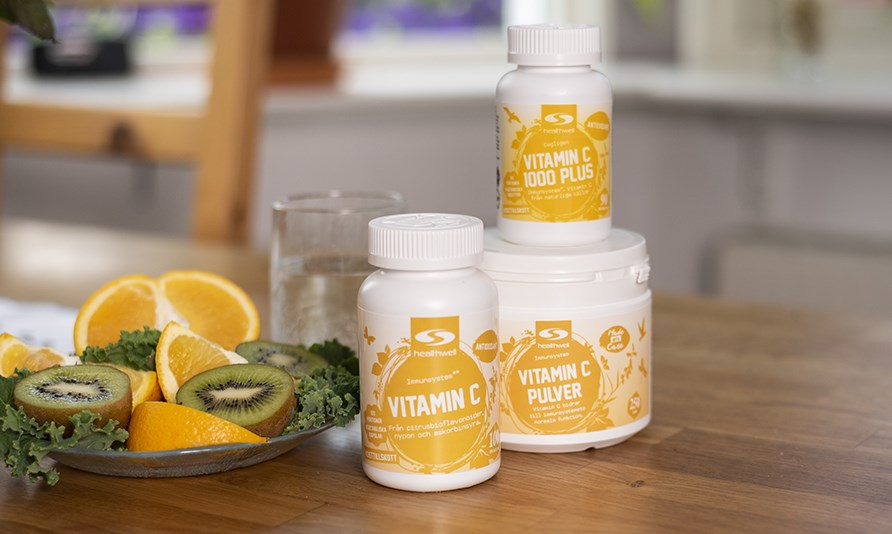 Brand
Product recommendations
Hyaluronic Acid Plus
90 caps.
Popular
Vitamin C Capsules
90 caps.
Popular