Bild saknas
Vitamin D3 from algea- Vegan friendly
- Small capsules
- Optimal uptake
Hyaluronic Acid Plus
90 caps.
Popular
Vitamin D3 2500 IU
120 caps.
Popular
Product description
Nutritional content
Product description
Vegan Vitamin D
Vitamin D3 Vegan 3000 IU from Healthwell is a vegetable supplement with vitamin D, specially developed for vegans and vegetarians. The vitamin comes naturally from algea, a good source of vitamin D3. Vitamin D3 Vegan 3000 IU is also enriched with MCT oil for optimal body absorption, and comes in extra small capsules.
Vegan vitamin D3 from algae
Added MCT oil for better absorption
Vegetable capsule shell
Small, easy-to-swallow capsules
Vitamin D contributes to a normal immune system and calcium intake
Tip! Have you tried our Multivitamin Vegan, with specially selected and adapted vitamins & minerals for vegans?
Here's why vitamin D is good
Vitamin D is considered one of our main vitamins, but is today also categorised as a hormone. Vitamin D contributes to a normal immune system, and plays a role in cell growth and for a normally functioning nervous system. Vitamin D also interacts with calcium and helps regulate the calcium balance in the body, which in the long run contributes to the maintenance of a normal bone structure and normal teeth. So if you need extra calcium in your diet, it can be good to know that vitamin D is also important for the body to use the calcium you eat optimally.
Vitamin D3 Vegan contains 75 micrograms of vitamin D per capsule, which is equivalent to 3000 IU. It is a highly-dosed vitamin supplement and a flexible way to ensure the intake of vitamin D all year round.
Vitamin D for vegans
During the summer months when the sun is shining, we store vitamin D in the skin. However, in much of Northern Europe, we only get to enjoy the sun for a short amount of time. During the vast majority of the year, it is therefore impossible to absorb new vitamin D from the sun.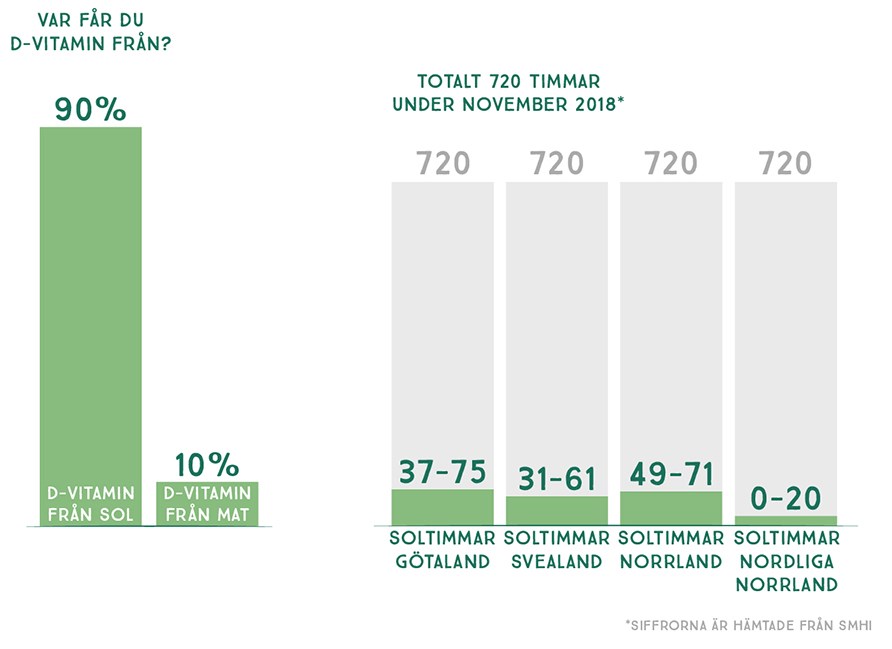 The largest natural source of vitamin D comes from the sun.
Vitamin D is also found in food in two different forms. Vitamin D2 (ergocalciferol) is found in certain vegetables such as mushrooms, while vitamin D3 is found in certain fatty animal foods such as salmon and egg yolks. Vitamin D3 is also the form that we can get from the sun, and often the form that is highly regarded due to its high bioavailability in the body.
As vitamin D3 is found in the sun's rays and in animal products, it can become difficult for vegans and strict vegetarians to get enough of the vitamin. That is why, Healthwell Vitamin D3 Vegan 3000 IU is based on vitamin D3 (cholecalciferol) from algea, unlike most vitamin D supplements that often come from sheep's wool grease.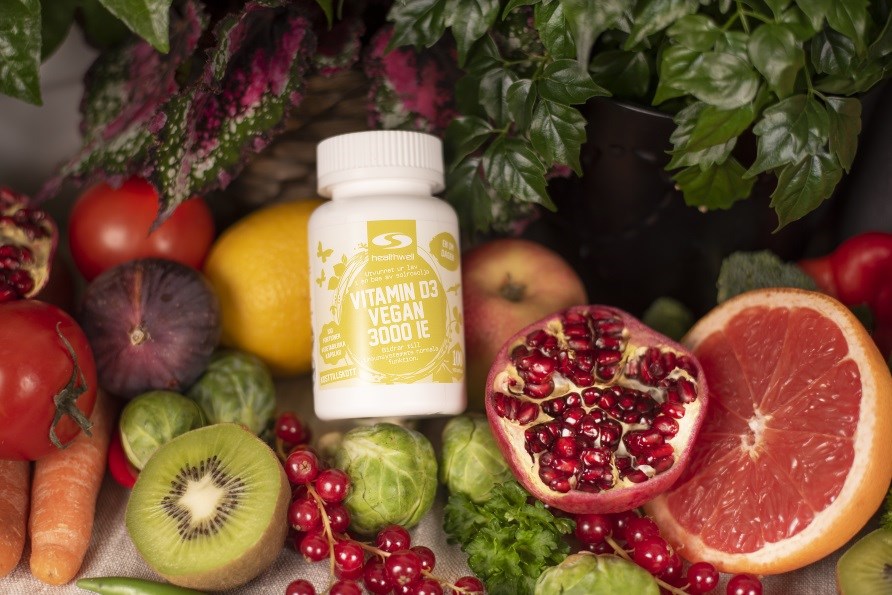 Healthwell Vitamin D3 Vegan 3000 IU is natural and comes from vegetable algea.
Better absorption with MCT- oil
Healthwell Vitamin D3 Vegan 3000 IU also contains MCT-oil for better absorption of vitamin D in the body. Vitamin D is a fat-soluble vitamin that needs access to a small amount of fat in order to be absorbed in the body. This is also why vitamin D mostly occurs in fatty foods. By adding MCT-oil in the capsules, the absorption capacity increases and you do not have to think about the fact that you have to take the vitamin supplement with a meal that contains fat. It is just as well to eat Vitamin D3 Vegan 3000 IU on an empty stomach and still absorb the vitamin D properly.
Extra small vegetable capsules
Vitamin D3 Vegan 3000 IU comes in capsules in the smallest possible size, so that they are easy to swallow. Even those who usually have problems with swallowing capsules or experience discomfort should be able to feel that they can swallow these small capsules. The capsules are of course completely vegan, and meet the needs if you are vegan or vegetarian.
Brand
Product recommendations
Hyaluronic Acid Plus
90 caps.
Popular
Vitamin D3 2500 IU
120 caps.
Popular