Bild saknas
Cold-pressed black cumin oil

- Gently cold-pressed
- Naturally rich in omega-6
- Organically certified
Popular
Popular
Popular
Product description
Nutritional content
Product description
Cold-pressed and organic black cumin oil
Black Cumin Oil ECO from Healthwell is an organically certified oil from the plant kingdom. The oil is gently cold-pressed (virgin) without additives at a low temperature in order not to lose the important nutrients. Healthwell Black Cumin Oil ECO is naturally rich in omega-6, which, among other things, contains the essential fatty acid linoleic acid.
Like most vegetable oils, black cumin oil is good for internal and external use. Mix a few drops of Healthwell Black Cumin Oil ECO in your food or drink for a good dose of nutrition, as the taste may be slightly bitter. Thanks to its nutritious content and antibacterial properties, black cumin oil can provide an alternative in skincare for people with skin problems, such as eczema and acne. The vitamins and minerals contained in the oil are believed to contribute to softer and smoother skin.
Naturally rich in omega-6
Vegetable-based
Cold-pressed
Organically certified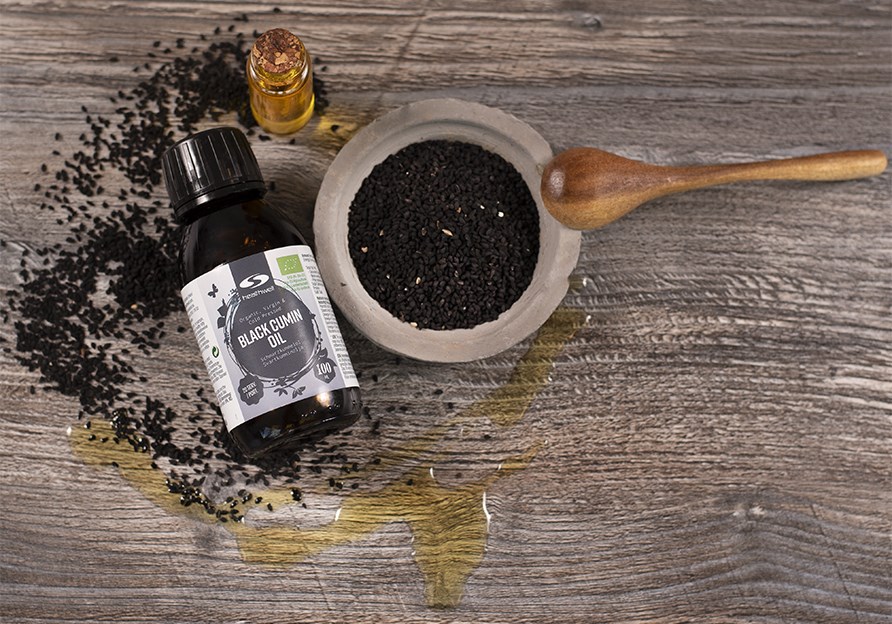 What is linoleic acid?
Healthwell Black Cumin Oil ECO is naturally rich in omega-6 and is a great option for those who want to add linoleic acid to a varied diet and a healthy lifestyle. Omega-6 is a polyunsaturated fatty acid, where the linoleic acid is also known as the parent fatty acid of the omega-6 family. Linoleic acid is one of two essential fatty acids that the body is unable to produce on its own, but that must be added through the diet. Polyunsaturated fats are of great importance in the body. Omega-3 and -6 are two of the most important fatty acids needed by the body to maintain normal health. A normal level of polyunsaturated fatty acids can contribute to cardiovascular health.
In addition to linoleic acid, Black Cumin Oil ECO contains the fatty acid GLA (Gamma-Linolenic Acid), which is important for cell repair and new cell formation. GLA is also believed to be able to inhibit the production of several of the substances that contribute to inflammation in the body.
Brand
Product recommendations
Popular
Popular
Popular