Bild saknas
Vegan meal replacement.- For detox
- Vegetable protein
- Vitamins & minerals
Product description
Nutritional content
Product description
Vegan meal replacement
Healthwell Detox Nutrition Powder is a green nutritional mix with natural ingredients of the highest quality that can be used both as a filling snack or as a useful and healthy meal replacement for detox. Detox Nutrition Powder has a carefully selected content that suits everyone, even if you have a sensitive stomach. Healthwell Detox Nutrition Powder is completely free from animal protein, lactose, flavourings and sweeteners, and has a base of pea protein and gluten-free oats. With a natural and mild blueberry flavour without sweeteners, which means you can season it to your taste. Try mixing it into a smoothie!
Vegan meal replacement
Adapted for people with sensitive stomachs
Vegetable protein from peas
Wide range of essential vitamins and minerals
Cysteine that contributes to glutathione levels
For a nutritious detox
Natural taste without sweetener
Gives a pleasant feeling of satiety
The nutritional powder contains:
Protein from peas
Vitamins and minerals
Natural blueberry aroma
Herbs such as ginger
Saturating coconut fat
Fat, carbohydrates and protein
The amino acids L-cysteine, L-glutamine and L-glycine
The nutritional powder does not contain:
Gluten
Animal ingredients
Artificial flavours
Sweetener
Added sugar
Lactose or milk protein
Salt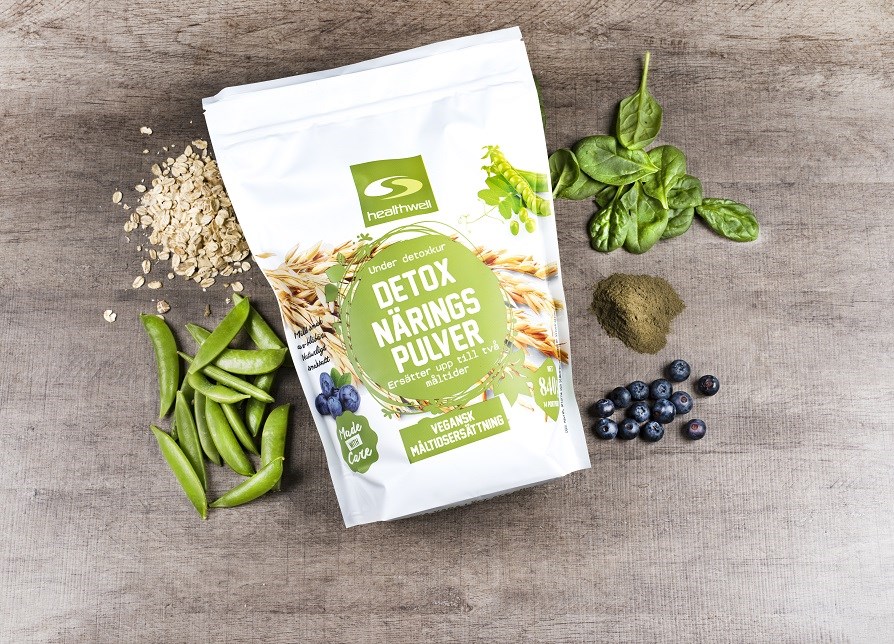 The nutritional powder contains
Pea protein helps maintain muscle mass and normal bone structure.
Gluten-free oats have slow carbohydrates and fibre that help you feel full for longer. Contributes to the normal functioning of the intestines.
The amino acid cysteine in the forms L-cysteine and NAC, N-acetylcysteine. Cysteine helps with the production of glutathione in the liver and other organs. Glutathione is a substance with antioxidant properties that promotes the production of white blood cells. Glutathione provides support for the liver's natural purification process and for the immune system's function.
Avocado extracts contain useful fats that also ensure that you get a good feeling of satiety. Avocados are also rich in fiber, vitamins and minerals. Avocados also contain glutathione.
Ginger extract, a well-known herb with a long history in Ayurveda, amongst others. Ginger is rich in gingerols which is considered to be an active ingredient in ginger.
Vitamin B6 helps to reduce fatigue and exhaustion as well as promote normal energy metabolism.
Vitamin C helps maintain a normally functioning immune system and protects your cells against oxidative stress thanks to its antioxidant effect.
Zinc acts as an antioxidant and is also a component in over 300 enzymes in the body, which, among other things, initiates metabolism and helps to maintain protein- and fat metabolism in the body.
Chromium contributes to normal metabolism of macronutrients and to maintaining normal blood sugar levels, which can make it easier to avoid snacking.
How to use Detox Nutrition Powder
For a detox: Mix 1 scoop (approx. 60 g) with 300-400 millimetres of water. Drink twice daily as a nutritious snack.
For an advanced detox: Replace 1-2 of the day's main meals.
Brand