Bild saknas
Iron with added vitamin C.- 20 mg of iron
- Gentle on the stomach
- Reinforced with folic acid
Hyaluronic Acid Plus
90 caps.
Popular
Trippel Magnesium
90 caps.
Popular
Product description
Nutritional content
Product description
Iron supplement gentle on the stomach
Iron Gentle is an iron supplement that is gentle on the stomach and with added vitamin C for optimal absorption. Iron Gentle is also fortified with folic acid and citrus bioflavonoids, which help with the formation of red blood cells. The form of iron bisglycinate found in Iron Gentle capsules is a form of iron with high bioavailability that is easier for the body to absorb. When iron is bound to the amino acid glycine, it can be transported through the stomach unchanged and then absorbed directly in the small intestine. This means that side effects such as constipation can be avoided, which is otherwise common when taking iron supplements. One capsule of Järn Skonsam contains 20 mg of iron, which ensures your intake of iron.
Iron bisglycinate which is gentle on the stomach
Added vitamin C for better absorption
Reinforced with folic acid
For normal immune system
20 mg of iron per capsule
What is iron?
Iron is an important substance in the blood where it is part of hemoglobin, a type of protein found in red blood cells, which transports oxygen in the muscles. Iron is also included in some enzymes. It is our red blood cells that have the task of transporting oxygen to all the body's cells. If we take in too little iron, anemia can occur, which can cause symptoms of fatigue and lack of energy.
Everyone needs iron, but some groups need it more than others. For example, pregnant women may need iron, partly to maintain their own stores but also to meet the needs of the fetus. If you eat vegetarian or vegan, you may risk getting too little, because iron is primarily found in animal products such as meat and blood products.
The European Food Safety Authority, EFSA, has stated that:
Iron is needed for oxygen transport in the body
Vegetarians have lower iron values than omnivores
Calcium and zinc reduce the absorption of iron
Selenium in food
Iron is mainly found in blood foods and offal such as liver and meat. Iron is also found in vegetable foods such as whole grain products, nuts and legumes. The body's absorption of iron is low when compared to other nutrients. The iron in plant foods is somewhat more difficult for the body to assimilate, which means that vegans and people who do not eat much meat may have to review their intake of iron. The absorption of iron can be supported if we simultaneously eat vitamin C, which improves absorption. Worth knowing is that people with iron deficiency absorb more iron from food, which is especially important during periods when iron stores are built up. Also remember that when you drink tea, coffee and milk, it is more difficult for the body to absorb iron.
Are there side effects of iron?
Iron supplements should only be added as a supplement for those who need it. Too much iron can affect the stomach negatively by causing you to become constipated or nauseous, or to have diarrhoea. Iron as a mineral is a heavy metal and in larger quantities the liver can be affected.
Vegetarian Friendly
The symbol Vegetarian Friendly indicates that the product's content is plant-based. The product is also suitable for vegans.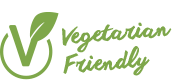 Brand
Product recommendations
Hyaluronic Acid Plus
90 caps.
Popular
Trippel Magnesium
90 caps.
Popular