Bild saknas
Give your body a chlorophyll and mineral boost. - Rich in chlorophyll
- Organically grown
- Minerals and vitamins
Hyaluronic Acid Plus
90 caps.
Chlorella Capsules ECO
200 caps.
Popular
Popular
Product description
Nutritional content
Product description
Chlorella - organic chlorella powder with antioxidants
Nutritionally boost your smoothie or juice with Chlorella ECO, a pure and organic algae chlorella powder that is completely free from chemical substances. Chlorella has recently become incredibly popular among health enthusiasts, thanks in large part to its nutritious content. Chlorella is naturally packed with vitamins such as vitamin C, B vitamins, vitamin D and vitamin E. It also contains several important minerals and omega fatty acids. As chlorella is rich in protein, it's a popular supplement among vegetarians. Carefully grown to retain all of the important nutrients!
Filled with vitamins & minerals
Organically grown
Rich in protein
Omega fatty acids
Popular in health circles
What is chlorella?
Chlorella is a microalgae that grows naturally in freshwater and contains a lot of protein, chlorophyll and antioxidants. Chlorella is considered one of the most nutritious algae available, which has made it an incredibly appreciated source of nutrition. Chlorella has been on earth for billions of years and contains the most chlorophyll of any known plant in the world.
Healthwell's Chlorella ECO is completely organic and is carefully grown in freshwater ponds, where it is then harvested, dried and ground into a nutrient-rich powder. Thanks to its careful cultivation, it retains all the important nutrients and antioxidants. Chlorella ECO is considered a raw food. Raw food means that it can only be carefully heated to a maximum of 42 degrees during the manufacturing process, in order to retain all of the nutrients.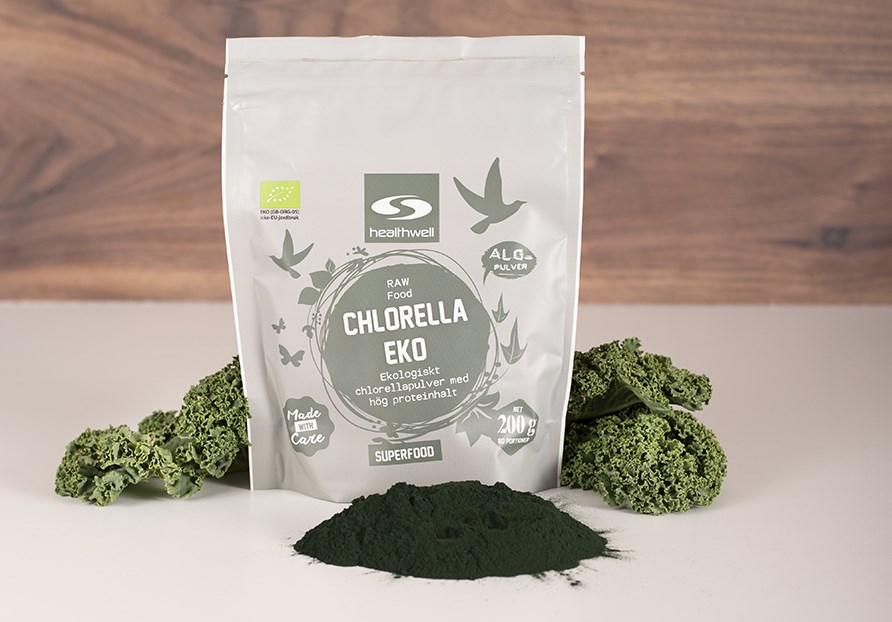 What is chlorella good for?
Chlorella contributes to good health thanks to its nutritious content. Among other things, chlorella contains the most chlorophyll of all known plants on the planet. This makes chlorella a popular product to use in connection with detoxes and cleansing treatments of various kinds. Chlorophyll also contains substances that protect our cells from free radicals.
Chlorella also contains protein in the form of amino acids, which makes it a good supplement for those who exercise. Chlorella contains the beneficial omega fatty acids omega-3 and omega-6, which have several important functions in the body. In addition, it contains vitamin B, vitamin E, iodine, iron and magnesium. The high content of vitamin B, iron and omega fatty acids makes it an excellent supplement for vegetarians who have difficulty absorbing those nutrients through their diet.
What is the difference between chlorella and spirulina?
A common question is what is the difference between the so-called "super algae" chlorella and spirulina. Both chlorella and spirulina are algae that grow in freshwater, but chlorella contains chlorophyll, which makes it commonly used in cleanses.  
How much chlorella should you eat?
The recommended dosage of Healthwell's Chlorella is between ½ tsp to 1 tablespoon. Chlorella is recommended in a lower dose because it can cause stomach problems for those who are sensitive, so make sure to always adapt based on yourself and your own body. Chlorella is also available in capsule form for those who prefer that.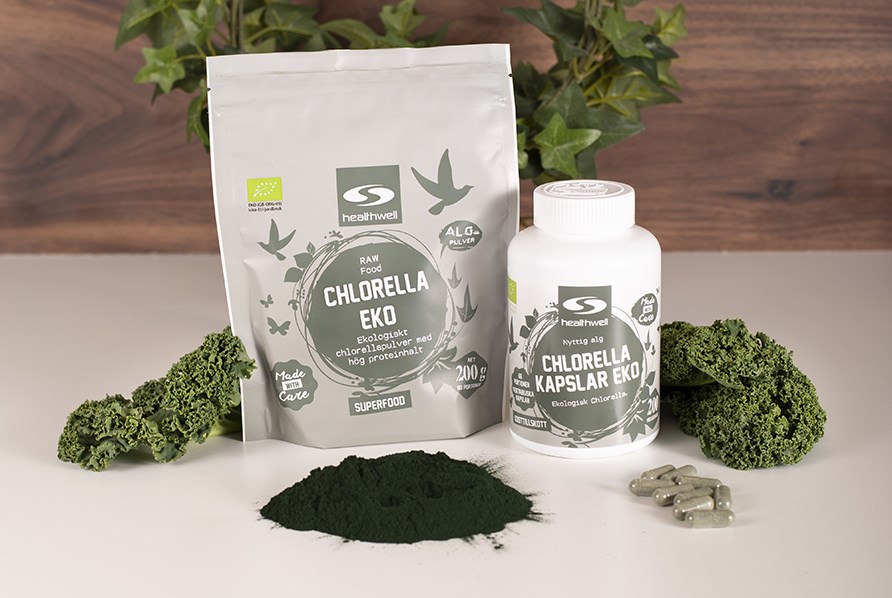 Nutritious juices, smoothies & health shots with chlorella
It is common to mix chlorella powder into juices and nutritious shots of various kinds. Freshly squeezed juice with chlorella makes for a real health juice that you can drink during the day and is also a perfect way to start the morning. You can also make a healthy smoothie. Chlorella can also be used in food and is, among other things, popular to use as an ingredient in healthy pancakes.
What does it mean when we say the product is EU-organic?
In organic food production, biodiversity, the conservation of natural resources, environmental practices and strict animal welfare are observed (1). In order for a product to be labeled as EU-organic, the label used within the EU, a product must meet strict conditions that apply to the entire production chain. The product must contain at least 95% organic ingredients, and in addition, the other 5% must meet other strict conditions (1).
In organic crop production, it is important to promote soil fertility and to allow for perennial crop rotation and a cycle of organic material. Therefore, fertilizers, compost and plant protection products should only be used if they comply with the principles and objectives of organic production. In general, the EU requires that an organic food must be produced without synthetically produced chemical pesticides and without artificial fertilizers. In organic production, genetic engineering is also prohibited. In addition, production should primarily rely on renewable resources (2).
references:
1 & 2. EG. 2007. Rådets förordning (EG) nr 834/2007 om ekologisk produktion och märkning av ekologiska produkter och om upphävande av förordning (EEG) nr 2092/91. (Retrieved 2021-09-24)
Brand
Product recommendations
Hyaluronic Acid Plus
90 caps.
Chlorella Capsules ECO
200 caps.
Popular
Popular