Bild saknas
Give your body a chlorophyll and mineral boost. - Rich in chlorophyll
- Organically grown
- Minerals and vitamins
Hyaluronic Acid Plus
90 caps.
Popular
Popular
Product description
Nutritional content
Product description
Organic chlorella powder
Chlorella ECO is a 100% pure and organic chlorella powder with no additives. Chlorella is a highly nutritious alga that you can easily mix with any drink or smoothie to increase your daily intake of nutrients. Chlorella has a slightly grassy flavour, but this can be well concealed in flavoured drinks.
Naturally nutritious with vitamins and minerals
Naturally rich in protein and healthy fatty acids
Organic chlorella
Natural powder for smoothies and drinks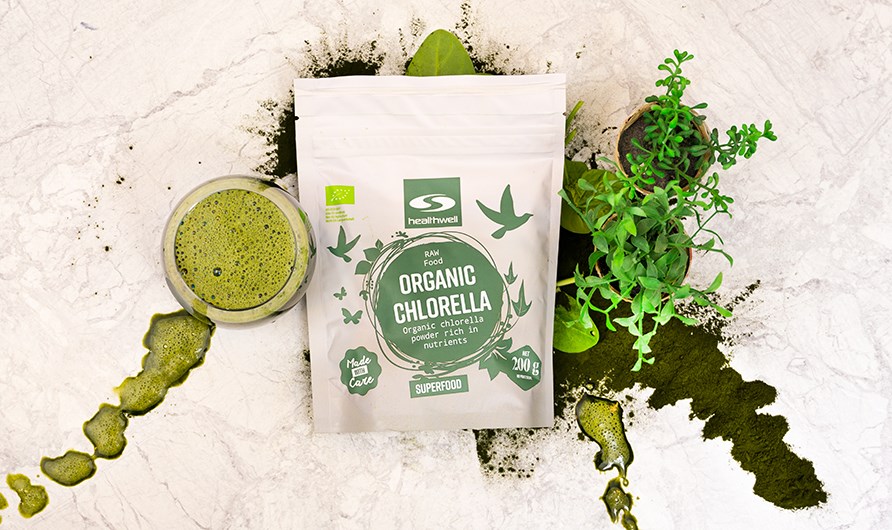 Organic Chlorella powder.
What is chlorella?
Chlorella is a microalga that grows naturally in freshwater and contains plenty of protein, chlorophyll, vitamins, and minerals. Chlorella is considered one of the most nutritious algae, which has made it an incredibly valued source of nutrition. Chlorella has been available on the earth for billions of years and contains more chlorophyll than any other known plant in the world.
Healthwell's Chlorella ECO is completely organic and carefully grown in freshwater ponds, where it is then harvested, dried, and ground to a nutritious powder. Thanks to the careful cultivation, it retains all the important nutrients and is then gently heated to a maximum of 42 degrees Celsius. This process is called raw food and is very popular for preserving all nutrients.
Brand
Product recommendations
Hyaluronic Acid Plus
90 caps.
Popular
Popular