Bild saknas
Real essential ginger oil. - 100% concentrated
- Spicy scent
- For aromatherapy
Hyaluronic Acid Plus
90 caps.
Popular
Popular
Product description
Contents
Product description
Essential ginger oil
PURE Ginger Oil ECO (Ginger Oil) is an essential oil made from organic ginger. The oil is prepared very carefully by distilling the root from Zingiber officinale, from India. The oil has 100% concentration and comes without additives. PURE Ginger oil ECO is therefore very long-lasting and can be used for both aromatherapy and skin care products. Mix with any base oil for homemade skin oil, or use in an aroma lamp to spread a wonderfully spicy scent.
Ginger oil made with the highest quality
Spicy aroma
Long-lasting and very highly concentrated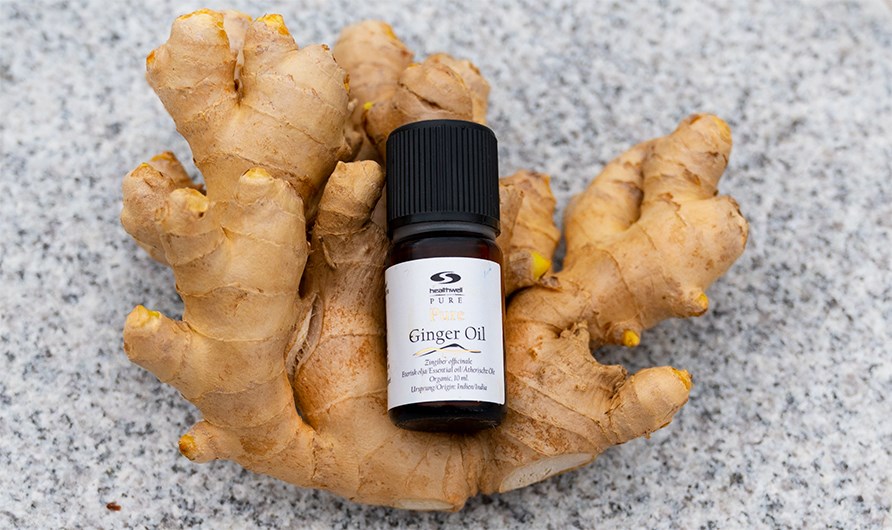 Spicy ginger oil of the highest quality.
Use of essential ginger oil
PURE Ginger oil ECO should not be used undiluted as is very concentrated. Use diluted to a maximum of 2% concentration, which means 2 drops of essential oil per tablespoon of base oil. Ginger oil can be used as an ingredient in skin care products, test in example for massage oils to activate the massage. Also try ginger oil for aromatherapy in an aroma bath, aroma lamp or diffuser to spread a warm, spicy scent and uplifting mood.
More about ginger
Ginger is widely used in the Ayurvedic tradition, where it has been attributed many properties, including general strengthening. In aromatherapy, it is often used for an uplifting mood. Ginger as a spice contains the active substance gingerols, which gives the ginger its strong taste and contributes to a warming effect. Ginger can therefore be used in massage oil, for a warming feeling.
Brand
Product recommendations
Hyaluronic Acid Plus
90 caps.
Popular
Popular