Bild saknas
Exotic scent of jasmine. - From jasmine flowers
- Luxurious fragrance for aromatherapy
- Organic oil
Hyaluronic Acid Plus
90 caps.
Popular
Popular
Product description
Contents
Product description
Jasmine essential oil
PURE Jasmine oil ECO is a luxurious essential oil with a wonderfully floral scent. Essential jasmine oil can be used both for aromatherapy and as an ingredient in skin care products as a nice fragrance. PURE Jasmine oil ECO is 100% concentrated essential oil of which a little goes a long way, so is an affordable product with which you also have the opportunity to create your own skin care product. A few drops are enough for a good scent. Jasmine is suitable if you want an uplifting and floral scent.
Essential oil with jasmine flower
Concentrated essential oil
Floral and uplifting scent
For aromatherapy or in skin care products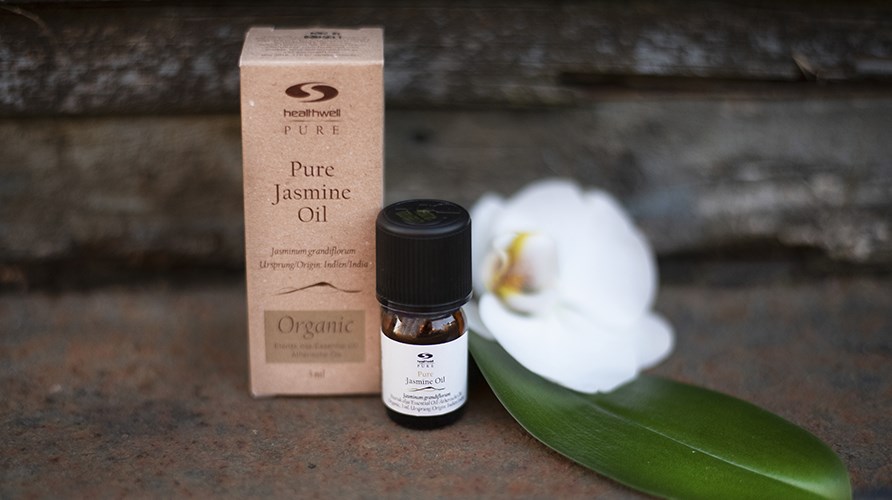 The origin of jasmine oil
PURE Jasmine oil ECO is extracted from jasmine flowers (Jasminum grandiflorum). The jasmine flowers come from India, where jasmine is well-used in food and for health purposes. Jasmine is a popular flower that is appreciated both as a fragrance in perfume and in a cup of tea.
How to use jasmine oil
PURE Jasmine oil ECO can be used for aromatherapy or as a fragrance in skin care products. The oil is 100% concentrated and very strong, and should always be used diluted in other oil.
For aromatherapy : Drizzle in an aroma bath, aroma lamp or aroma diffuser (diluted to 2%), and enjoy a floral scent. Jasmine is a good choice if you want an uplifting mood and a luxurious feeling.
For skin care products: Mix the essential oil with other oils to a maximum of 2% concentration. That is, about 2 drops of essential oil per tablespoon of other oil. Mix for example in skin oil or if you want to make your own body butter.
Note that PURE Jasmine oil should never be used in concentrated form directly on the skin or if swallowed. The safety instructions stated on the packaging apply to concentrated oil. If diluted to a maximum of 2%, it can be used on the skin.
Brand
Product recommendations
Hyaluronic Acid Plus
90 caps.
Popular
Popular