Bild saknas
A powerful essential oil. - Problem skin
- For flu season
- As a skin care or air purifier
Hyaluronic Acid Plus
90 caps.
Popular
Popular
Product description
Contents
Product description
Organic oregano oil
PURE Wild Oregano Oil is a powerful and energising essential oil. Its scent is warm and spicy with a mild woody undertone. Oregano grows wild in large parts of Europe and Asia, but Oregano Oil from Healthwell PURE comes from the Mediterranean, where it thrives best. PURE Wild Oregano oil is an essential oil that has a soothing effect on the skin and is therefore very popular to use for rashes or problem skin. Even for colds, oregano oil is popular to use by lubricating the chest or using it in steam baths. Oregano extract simply belongs to one of nature's most powerful vegetable oils, so try it for yourself and discover its many good properties.
Relieves skin problems
Good during the cold season
82% carvacrol
As an air purifier or in skin care products
Powerful antioxidant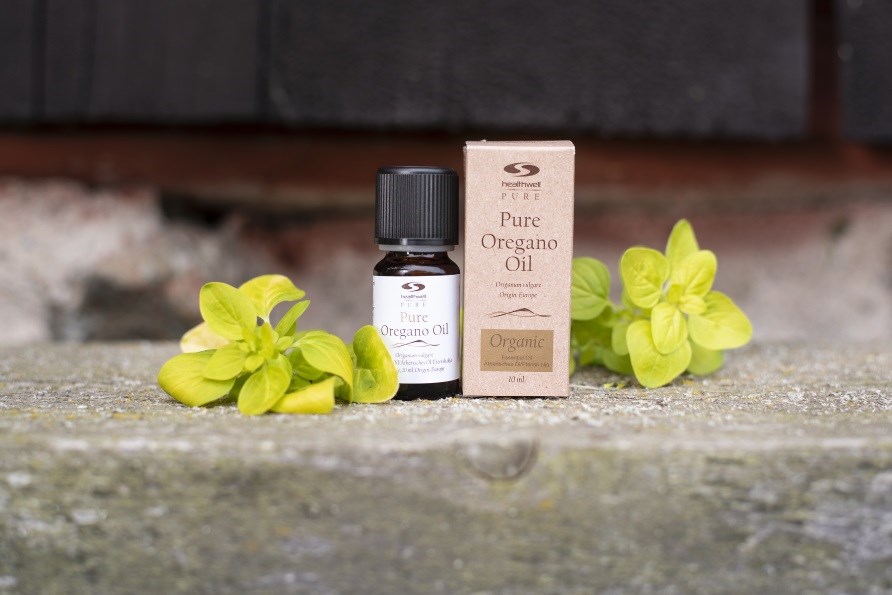 Origanum vulgare - mountain happiness
The name Oregano comes from the Greek "õros" which means mountain and gãnos which means happiness, i.e. "mountain happiness". Oregano grows better on dry rocky slopes, open areas and sunny mountains. That is why it thrives best around the Mediterranean where it can grow in the very best conditions and its active substances are at their highest. The active substance in oregano is carvacrol and it is also this substance that gives the herb its taste. In addition to carvacrol, there are also the active substances thymol and rosemary acid. Thymol is a volatile oil with antiseptic properties and rosemary acid is the substance that gives the herb its scent and also protects the plant thanks to the fact that it is a powerful antioxidant.
Oregano as a spice
Oregano is perhaps best known as a spice for pasta and pizza. In has been in Sweden since the Middle Ages, and was then grown in monastery farms as a seasoning in food and medicinal plants. The herb is rich in important minerals and vitamin C which is a powerful antioxidant. During flu season, it is therefore used extensively as it has a soothing effect on the throat and is also a mild expectorant. But as a herb, it also served as a good complement to food by stimulating the gallbladder for more bile production and thus facilitating digestion.
Production of oregano oil
With PURE Wild Oregano Oil ECO, you can be sure that you get the very best essential oil. Unlike fresh or dried oregano, essential oil is a more concentrated form which gives you more of the active ingredients. PURE essential oregano oil is produced by steam distillation of the oregano leaves. This process is gentle and ensures that the active essential oils are utilised in a good way. Steam distillation is a well-proven process that has not changed much in the last thousand years. The heat from the steam causes the plant to break down and the essential oils are released from the plant and the condensation is then collected and cooled down to a liquid form. Our oregano is harvested in Europe, where it has been grown under the most favourable conditions for you to get the absolute best essential oregano oil on the market. Here you can read more about how the production of essential oils is done.
Brand
Product recommendations
Hyaluronic Acid Plus
90 caps.
Popular
Popular