Bild saknas
Nootropic complex. - Energy and focus
- Citicoline and herbal extracts
- Enhanced with vitamin B6
Product description
Nutritional content
Product description
Advanced supplement that contributes to mental performance
QURE BrainBoost is an advanced dietary supplement for those who want the best way to boost mental ability. The supplement contains nootropic herbs such as rhodiola rosea and Bacopa monnieri as well as citicoline and natural caffeine. It is also fortified with vitamin B6 which helps to reduce fatigue and increase focus, as well as iodine which contributes to normal cognitive ability. QURE BrainBoost can easily be combined with QURE Brain in the same series for the best effect. Buy both products in an affordable package here.
For focus and mental ability*
High-dose content
Nootropic complex with invigorating effect
Rhodiola rosea, citicoline and Bacopa monnieri
Vegan
What are nootropics?
Nootropics is a collective term for substances that in some way are considered to affect our mood, mental ability or cognitive function. Cognitive function refers to your brain's ability to absorb, store, process and produce information. This includes caffeine, which is often used for the purpose of increasing focus and energy, as well as theanine, which is considered to have a calming effect on the body's neurotransmitters. Nootropic complexes have recently become very popular in terms of both mental performance and the aging process of the brain.
Focus and mental ability
QURE BrainBoost contains vitamin B6 and iodine, which contribute to focus and mental ability *. Vitamin B6 contributes to cognitive ability which includes concentration, learning and memory. Lack of vitamin B6 can lead to impaired psychological function, which can manifest itself as confusion. It can also lead to symptoms such as weakness, fatigue and exhaustion (1). Iodine contributes to normal cognitive and neurological function, and deficiency of the substance can, among other things, lead to impaired mental function (2).
Citicoline is found naturally in the brain
Citicoline consists of choline and cytidine together, and is also called CDP-choline. Citicoline is found naturally in the body's tissues, not least in the organs. Choline also contributes to normal fat metabolism and normal homocysteine metabolism, which is linked to, among other things, the brain's methylation process. The methylation process is the process that detoxifies and repairs the body. Methylation is important for many functions in the body, including cell division and the formation of immune cells. When the methylation process does not function as it should, you are more easily affected by various health problems. QURE BrainBoost contains as much as 250 mg of citicoline per dose.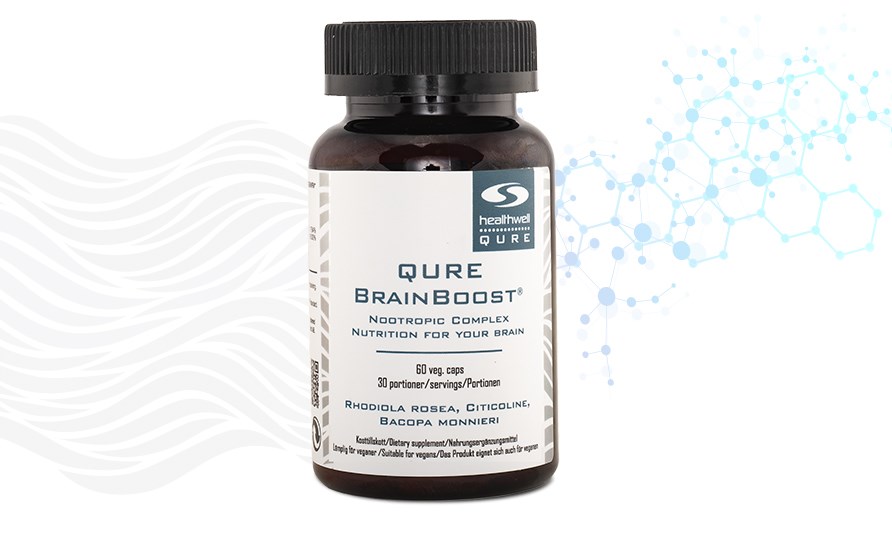 QURE BrainBoost is a powerful nootropic complex.
Bacopa Monnieri and Rhodiola Rosea
QURE BrainBoost also contains herbal extracts of the adaptogens Bacopa monnieri and Rhodiola rosea. Adaptogenic plants are considered to have the ability to adapt to the body's needs without having an addictive effect. Bacopa monnieri is also called brahmi, and is a plant that has long been used in Ayurveda. Rhodiola rosea has become very popular as a dietary supplement and is often used during periods of fatigue.
When can I take QURE BrainBoost?
Because the caffeine in QURE BrainBoost has an invigorating effect, the supplement is preferably taken early in the day or when you need maximum energy. The recommended dosage is 2 capsules daily or as needed, for example in situations where you want to be able to focus and perform at your best.
Vegetarian Friendly
The symbol Vegetarian Friendly indicates that the product's content is plant-based. The product is also suitable for vegans.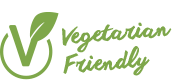 References:
1. European Food Safety Authority. 2010. Vitamin B6 related health claims. (Retrieved 2021-02-19)
2. European Food Safety Authority. 2010. Iodine related health claims. (Retrieved 2021-02-19)
Brand
Product recommendations