Bild saknas
Reishi mushroom extract. - High-dose
- With a high proportion of active substance
- According to Chinese tradition
Product description
Nutritional content
Product description
High-dose reishi extract
Healthwell Reishi contains an extra high-dose extract of the Chinese fungus reishi (Ganoderma lucidum). The extract comes from 50% fruit body and 50% mycelium to achieve an optimal composition of active substances. Healthwell Reishi provides 560 mg of mushroom extract per capsule, which corresponds to as much as 11.2 grams of dried mushrooms. The capsules are entirely vegetable-based and the recommended dosage is 1 capsule, 1-2 times a day.
High-dose reishi extract
High content of polysaccharides, beta-glucans and triterpenes
Well-used mushrooms in the Eastern tradition
Occurs frequently in studies of its effects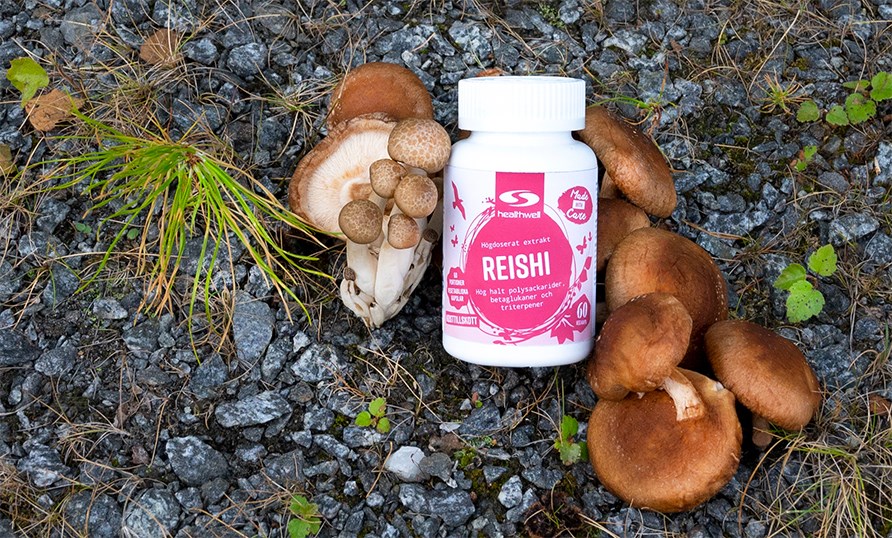 What is reishi?
Reishi (Ganoderma lucidum) is a large fungus with a glossy surface. It is unusual in the wild, and all commercial mushrooms are cultivated today. Reishi has been used for thousands of years in the Eastern tradition, and has been attributed many positive properties. Throughout history, it has been used for heart health, the immune system, and for a calming effect. Today, reishi occurs in many studies where its properties have been investigated, including in blood sugar control and for depression. Research has shown interesting results, but further studies are needed to be able to draw any conclusions. What we do know is that the fungus is naturally rich in several vitamins, minerals and substances with antioxidant properties.
How is reishi used?
Reishi is available as both a powder and an extract and can be used as part of a lifestyle or in shorter periods. To be sure you get a good composition of reishi powder or reishi extract, it is a good idea to keep track of the amount of active substances, including polysaccharides, beta-glucans and triterpenes. The optimal amount of polysaccharides should be between 30-40%. Less than that is too low an amount, while a higher amount indicates that the remaining active substances are too low. Healthwell Reishi contains extracts from both the fruiting body and mycelium to optimise the amount of active substances.
Does reishi have any side effects?
Reishi is considered a safe supplement with rare side effects even in high doses, and can be used continuously without interruption. Always follow the recommended instructions.
Brand
Product recommendations