Bild saknas
Resveratrol from Japanese knotweed extract.- Vegetable capsules
- With vitamin C
- Antioxidant properties

Product description
Nutritional content
Product description
Resveratrol with vitamin C
Healthwell Super Resveratrol is a highly concentrated resveratrol supplement in vegetable capsules. The capsules from Healthwell contain the polyphenol reservatrol in its best form, namely trans-resveratrol from parkslide extract, which is also the active substance in Super Resveratrol. The supplement is fortified with vitamin C, a vitamin that acts as an antioxidant and protects our cells from oxidative stress. These antioxidant properties are important for a normal functioning health and well-being.
Trans-resveratrol
With vitamin C
Natural antioxidant
Plant-based capsules
What is Resveratrol?
The substance resveratrol belongs to the group of plant polyphenols which are found in the skins of red grapes, in cocoa beans and in certain berries and nuts. Polyphenols are formed naturally by plants and act in the same way as an antioxidant; they are a protection for the plants against, among other things, fungi, bacteria and other invaders that can damage the plant. The plant parkslide (Fallopia japonica) originates from East Asia and is a plant rich in these polyphenols and is therefore a healthy herb and a grateful source of resveratrol.
Reservatrol as a natural antioxidant
Antioxidants act as polar opposites to the free radicals that can be damaging to our health. If we live unhealthily, the presence of antioxidants in our body decreases. This can be when, for example, smoking, sunbathing or when you eat hard-processed or burnt food. Then it is extra important to get fruit and vegetables or a supplement with antioxidant properties.
Dosage of Super Reservatrol
Healthwell Super Resveratrol is taken 1 capsule daily with a meal.
Vegetarian Friendly
The symbol Vegetarian Friendly indicates that the product's content is suitable for vegetarians and vegans.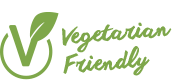 Brand
Product recommendations