Bild saknas
Oil of the highest quality. - Essential myrtle oil
- 100% pure oil
- Fresh, green and fruity scent
Popular
Popular
Popular
Product description
Contents
Product description
Essential oil of myrtle
PURE Myrtle oil is an essential oil of myrtle (Myrtus communis), produced by distilling leaves and twigs. This essential oil is completely free from all kinds of additives to give you the finest oil. Myrtle oil has a fresh, green and fruity scent that is refreshing and uplifting and suitable for spreading fragrance. It is an oil that is popular to use in skin products for mature skin, but is also suitable for oily and impure skin.
100% pure essential oil
Skin care for mature skin
Refreshing scent
For aromatherapy
A few drops are enough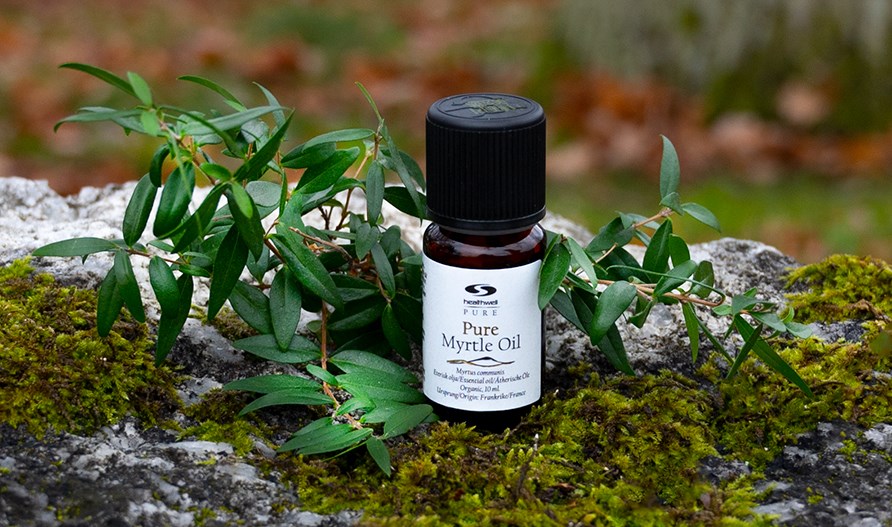 Myrtle oil has a fresh and fruity scent.
Use of myrtle oil
The refreshing scent of myrtle oil can feel soothing and dilating when you have a cold or a stuffy nose. You can try mixing the myrtle oil with other oils and rubbing on the chest, or mix it into bathwater for a really refreshing bath! It is also well suited to use in aroma lamps for aromatherapy, it contributes to calm and lighter thoughts.
Myrtle oil in skin care
Myrtle is popular in skin care for mature skin as it has an antiseptic and astringent effect. As the oil is highly concentrated, it should be mixed with other base oils or into your skin cream before you apply the oil onto the skin. Myrtle oil is also suitable for those who often suffer from problem skin and oily skin, or who easily get blackheads. Also try making your own body scrub to cleanse deeply.
Brand
Product recommendations
Popular
Popular
Popular