Bild saknas
100% pure essential oil from Tea tree. - Antiseptic properties
- Good for problem skin
- Rich in active ingredients
Hyaluronic Acid Plus
90 caps.
Popular
Popular
Product description
Contents
Product description
Organic Tea tree oil
PURE Tea Trea ECO contains 100% pure essential oil from the leaves of the tea tree bush. This essential oil belongs to one of the most well-known and versatile oils. Thanks to its cleansing properties, it is very popular in skin care products to minimise impure skin and problem skin. Simply mix a few drops of tea tree in your regular skin care or make your own skin care oil. The scent is fresh and has a herb-like aroma that is a little spicy. PURE Tea Trea ECO is picked and harvested on farms in New South Wales, the only state in Australia where the bush grows in its natural environment. There is a long tradition of using the leaves from the tea tree bush, which then has to undergo a slow distillation process that ensures that all important essential oils are extracted from the leaves and to the maximum degree of purity.
Cleansing for problem skin
100% pure essential oil from tea tree
Useful for itching and insect bites
Rich in active ingredients
There are over 100 different active substances that have been found in tea tree oil of which around half have been identified. These substances vary greatly depending on where the tree grows, climate, ripeness at harvest and the length of the distillation. PURE Tea Trea ECO has been grown, picked and steam distilled based on all the best conditions just so that all active substances are preserved. Among other things, the substance terpine is included, i.e. what gives it the scent and is considered to be the most important active substance. This substance is primarily effective against bacteria and fungi.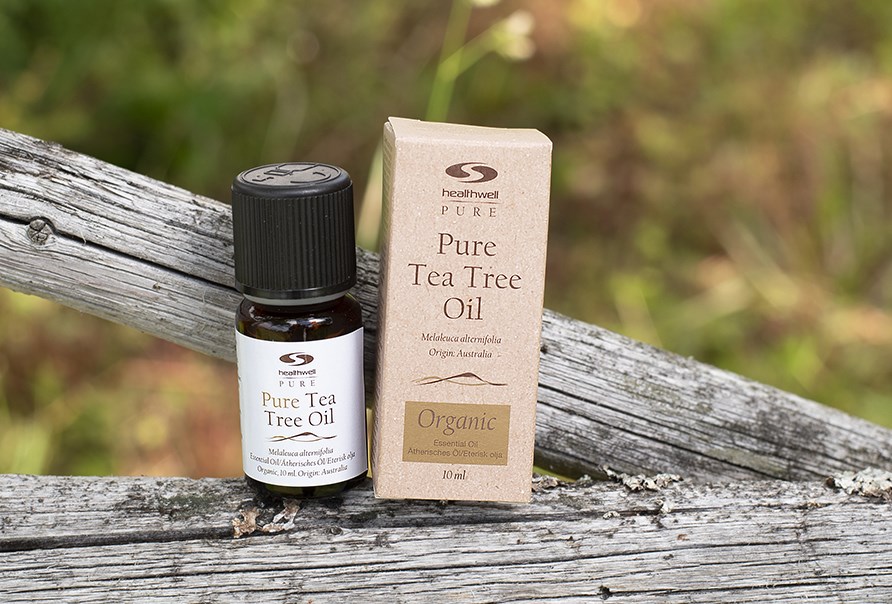 Tea tree oil for the skin
Tea tree is perhaps best known for its good properties on impure skin, but it also has other uses that you can read about below.
Impure skin:
Essential Tea tree oil is very popular to use among people who often suffer from problem skin or easily get blackheads and oily skin. By mixing a few drops of the essential oil in your regular skin care products or making your own face cream, you can see results after just one week of use. Or use Tea tree in your own body scrub for a deep cleanse.
Antiseptic properties:
Thanks to its powerful and aromatic scent and antiseptic properties, Tea tree is also a much-appreciated additive in, among other things, after-shave and deodorants.
Itching and insect bites:
Tea tree oil is also an appreciated product for itching and insect bites. For example, its active ingredients help to relieve skin rashes that occur during bites. But it can also have a preventive effect due to the fact that the powerful smell is a deterrent for insects.
Protection against mold and fungus:
Tea tree oil can also protect fruits and vegetables from fungus and mold, simply dip the fruits in a water bath with a few drops of Tea tree and then rinse to make sure your organic vegetables last longer!
Is tea tree dangerous?
Since tea tree is a highly potent oil and very powerful undiluted, it is important that you first mix it before using it. It is normally recommended to use 2-5% tea tree in skin products. 100% pure tea tree can cause mild irritation on the skin such as rash, itching and blisters. Even diluted, those who are extra sensitive can experience irritation, so always try a small amount of diluted tea tree oil on the skin and wait for 12 hours before using it on larger areas. It is also good to use protective gloves when handling so that the skin is not exposed unnecessarily.
Melaleuca alternifolia - tea tree oil
Melaleuca alternifolia is an Australian myrtle plant that was previously considered a weed but has long been used by Australian Aborigines for its beneficial properties. It likes to grow on well-drained soils with moist soil and has a wide spread where it grows. By crushing the leaves, the aborigines used the essential oil secreted to relieve skin problems. Thanks to its antiseptic properties, it was very useful. The strong scent also helps keep vermin and mosquitoes away. When the settlers came to Australia, they initially used the leaves for tea and hence the name tea tree bush. Today, the plant is well known for its properties and appears in publications and dissertations from, among others, the World Health Organization and ESCOP (European Scientific Cooperative on Phyto Therapy).
Brand
Product recommendations
Hyaluronic Acid Plus
90 caps.
Popular
Popular