Bild saknas
Oil of the highest quality. - Essential neroli oil
- Floral and sweet
- Organic
Hyaluronic Acid Plus
90 caps.
Popular
Popular
Product description
Contents
Product description
Essential Neroli Oil
PURE Neroli Oil ECO is an essential oil made of organic neroli (Citrus aurantium). The oil has been produced through steam distillation of flowers from the Pomeranian tree to produce an oil of the highest quality and concentration. PURE Neroli Oil is undiluted and free from additives, which makes it one of the best oils on the market. Neroli Oil has a sweet and fresh floral scent and has several uses, including in skin care.
Floral and sweet scent
Highly-dosed and concentrated
From steam-distilled flowers
Popular oil in skin care
Organic content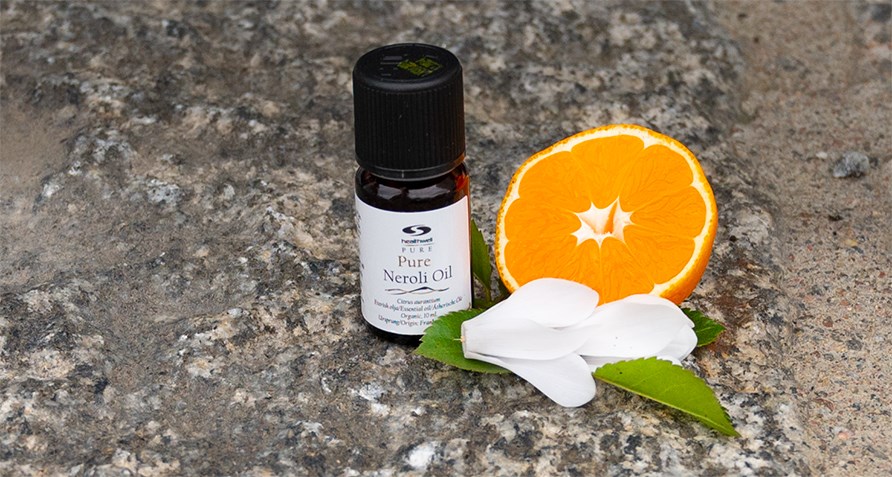 Neroli oil has a fresh, floral scent.
Use of neroli oil
Neroli oil has several uses and works excellently as a fragrance, in skin care and for aromatherapy. Please be aware that the oil is very concentrated and must not be applied directly to the skin, but mixed into a skin care product or other oil before use.
Neroli oil in skin care
Add Neroli oil to your oil or skin cream, for example. It has a nurturing and balancing effect on dry, sensitive and mature skin. Neroli is a popular ingredient in natural skin care with anti-aging properties.
Neroli oil in perfume
Neroli oil has a wonderfully floral and sweet scent with a spicy undertone. The scent has long been very popular in eau de cologne. In perfumes, neroli goes well with citrus scents like bergamot, but also with more herbal scents such as lavender and rosemary and sweet scents like geranium.
Neroli oil and aromatherapy
Neroli oil is used in aromatherapy for its calm and soothing scent, which helps to relieve tension, anxiety and stress. The calming properties are also make it suitable before going to bed to achieve peace of mind and feel relaxed before a good night's sleep.
Brand
Product recommendations
Hyaluronic Acid Plus
90 caps.
Popular
Popular