Bild saknas
Organic red cedar oil. - From American red cedar
- Insect repellent
- Warm woody scent
Hyaluronic Acid Plus
90 caps.
Popular
Popular
Product description
Contents
Product description
Organic red cedar oil
Pure Cedar Oil ECO is an essential oil extracted from the American red cedar (Juniperus virginiana ). The oil is produced by steam distillation of the wood and has many different uses: from acting as a fragrance in soaps, aromatherapy and skin creams to a natural insect repellent. Red cedar oil ECO from Pure is an essential oil of the highest quality and it is very concentrated, which means that only a few drops suffice and the oil is therefore also long lasting. In addition, Red Cedar Oil ECO is completely organic and free of additives and water to give you a high-quality product. The scent has a clear tone of wood combined with soft, sweet notes.
Essential oil of red cedar wood
Extracted from American red cedar
Excellent for fragrances
Counteracts vermin
Organic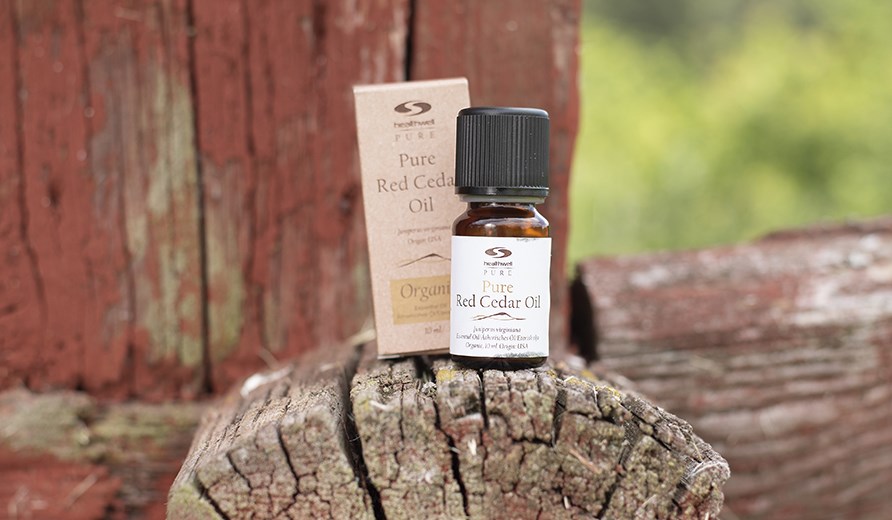 Red cedar oil to combat silverfish and vermin
The red cedar oil and red cedar wood are both common tricks to use to get rid of insects, vermin and silverfish. The red cedar wood is often used as wooden blocks or wooden rings that are placed on hangers to keep unwelcome guests away in the closet, but you can also use red cedar oil with a similar effect. It is the essential oil in the wood that contains terpenes that, among other things, silverfish dislike. This leads to the insects avoiding areas with a scent of red cedar. Pure Red Cedar Oil ECO can be used as an indoor insect repellent by pouring the oil into a small spray bottle and spraying on, for example, the moldings around a wardrobe to make the area save against moths, fur beds and more. In addition, you can enjoy the fresh scent in your home yourself! Just keep in mind that the oil can leave stains on wood and clothes and that it should not be applied undiluted to the skin as it can cause irritation. If you want to know more about how essential oil is produced, you can read more about the production of oils here.
Red cedar oil in aromatherapy
Red cedar oil can also be used for aromatherapy using an aroma lamp. A few drops of the oil are mixed with water and heated from below to spread a wonderfully warm scent around the room. The scent of red cedar is also appreciated in perfume, where it can be combined with fresh eucalyptus or other wood scents such as tea tree oil.
Brand
Product recommendations
Hyaluronic Acid Plus
90 caps.
Popular
Popular