Bild saknas
Essential sandalwood oil.- 100% pure
- Organic
- For skin care & aromatherapy
Hyaluronic Acid Plus
90 caps.
Popular
Popular
Product description
Contents
Product description
Organic sandalwood oil
PURE Sandalwood Oil ECO is a 100% pure organic essential oil from sandalwood (Santalum Album tree). Sandalwood oil has a warm, deep and woody aroma that is easy to combine with other essential oils. It is therefore often used as a base note in perfumes, where it binds together and balances other more volatile scents. Sandalwood oil also has properties that makes it suitable in skin care, and has both a soothing and uplifting effect in aromatherapy and meditation.
100% pure essential oil
Warm, smoky and woody scent
For aromatherapy and meditation
Good for sensitive skin
Sandalwood oil is made from pressed sandalwood when they are at least 25 years old. Real sandalwood oil is very valuable and has traditionally been used for thousands of years in, for example, Ayurveda and other folk medicine. PURE Sandalwood oil ECO is carefully developed to give you a sandalwood oil of the highest quality.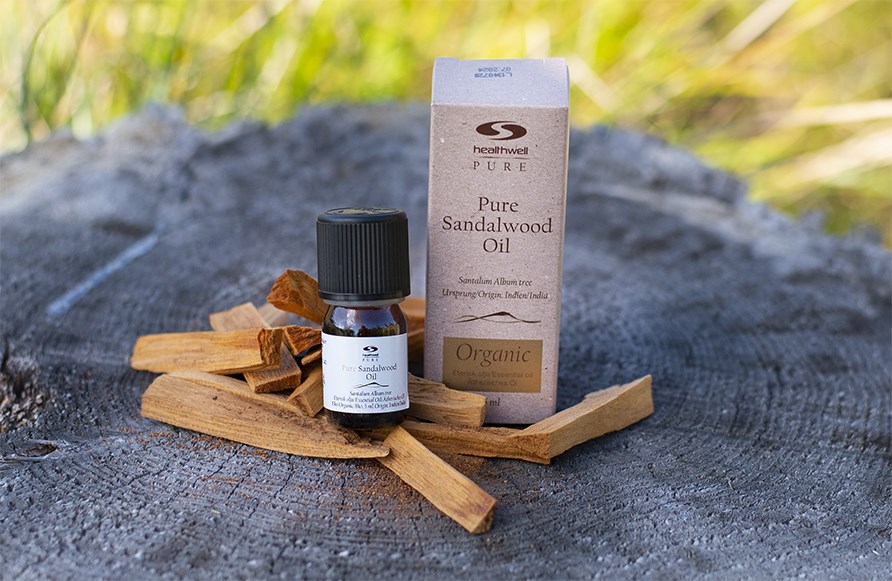 How to use sandalwood oil
Sandalwood oil is a popular oil in skin care, aromatherapy and meditation. It is also often used in scented candles and incense to spread a soothing scent in the home. You should bear in mind that the oil is very concentrated and should not be applied directly to the skin, but should be mixed into a skin care product or other oil before use. A few drops of concentrated oil are enough to get a wonderful scent.
Sandalwood oil in skin care
Sandalwood oil is popular in skin care as the oil has a soothing and moisturising effect on all skin types, and is especially suitable for dry and sensitive skin. The oil is also considered to be good for pigment spots on the skin. Sandalwood oil is a versatile oil and can, for example, be used to get a wonderful scent in a homemade skin cream, after sun or after shave.
Suitable for aromatherapy
Thanks to its soothing scent and beneficial effect on both body and mind, sandalwood oil is also often used in aromatherapy and meditation along with other essential oils. In aromatherapy, essential oils are used to give new vitality and relieve stress through fragrance, inhalation, bath and massage. Sandalwood oil is considered to have a positive effect on tension in the body and is said to be able to have an uplifting effect on the mind and counteract depression. The oil is also said to be a strong aphrodisiac.
Brand
Product recommendations
Hyaluronic Acid Plus
90 caps.
Popular
Popular