Bild saknas
Vanilla essential oil.- Organic
- Can be used as a room fragrance
- Without additives
Hyaluronic Acid Plus
90 caps.
Popular
Popular
Product description
Contents
Product description
Organic vanilla oil
PURE Vanilla Oil ECO is an essential oil with a lovely and sweet scent of vanilla. The oil is very concentrated and contains only pure oil, which makes it highly-dosed. Just one or two drops of the oil are enough when measuring it out for most uses, which means that it lasts a long time and is affordable. PURE Vanilla Oil ECO can be used in aromatherapy to spread a calm and comfortable feeling, to a wonderful body lotion or mixed with a body oil.
Essential oil from vanilla beans
Organic
Soft and warm scent
Pure oil only
To produce Vanilla Oil from PURE, a gentle CO2 extraction of beans from vanilla orchid is carried out. All essential oils from PURE are equally carefully developed to always deliver the very best quality for you.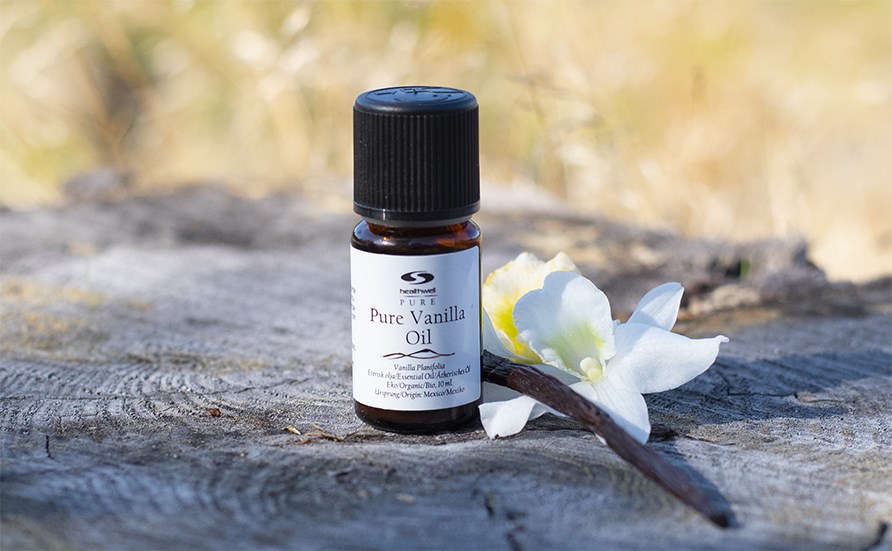 Uses for vanilla oil
PURE Vanilla Oil ECO has many uses. Because the oil is so concentrated, it should not be used undiluted on the skin. You can try to mix it with other oils or creams to create a wonderful skin oil or body lotion with a warm scent of vanilla. PURE Vanilla oil ECO can be used to flavour desserts or foods, for example to flavour an oil or honey to get a nice vanilla taste.
Vanilla has a clear scent that many recognize and can be used in aromatherapy for a relaxing, soft and comfortable effect. Use the oil in a massage oil for a wonderful scent that will spread around the room.
Brand
Product recommendations
Hyaluronic Acid Plus
90 caps.
Popular
Popular