Bild saknas
Natural ingredients for normal eyesight.- Blueberry extract
- High-dose eye vitamin
- Astaxanthin and flavonoids
Hyaluronic Acid Plus
90 caps.
Super Blueberry Extract
60 caps.
Popular
Popular
Product description
Nutritional content
Product description
Supplement for your eyes
Wonderful Eyes is a well-composed blend of natural ingredients as well as vitamins and minerals that are all positive for normal vision. The capsules include, for example, blueberry extract with a high proportion of anthocyanins and flavonoids, and carotenoids, which include natural vitamin A. Other components include the herb eyebright and a variety of antioxidants, such as zinc and vitamin E. This is simply a high-dose dietary supplement designed to have a positive effect on the eyes and their function.
Helps maintain normal vision
Natural ingredients such as astaxanthin, blueberry, and eyebright
High-dose supplement with 150 mg of blueberry extract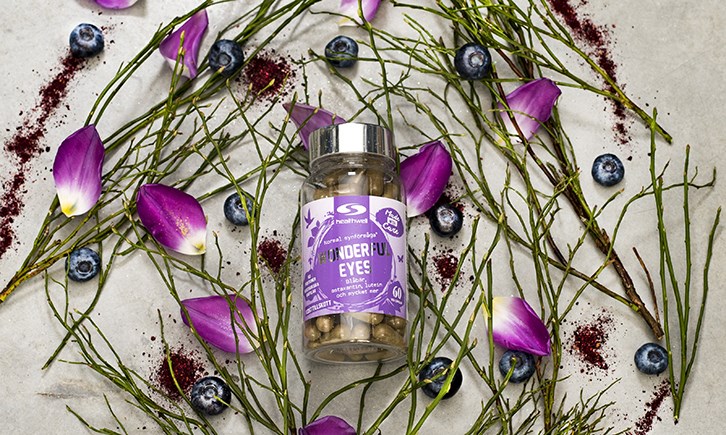 Dry eyes
Dry eyes are a relatively common problem that can occur due to allergies, air conditioning, working in front of a computer screen, or being outdoors too much. We get dry eyes because our tear duct produces too little fluid. Both eye drops and supplements for the eyes can work well in situations like this. In Wonderful Eyes, you will find, for example, eyebright, an herb that has long been used to relieve eye discomfort. The name eyebright may say a lot about what the herb does, but above all, it helps to maintain the functions of eyesight and the retina.
Astaxanthin from algae
Astaxanthin is a natural carotenoid produced naturally by the Haematococcus pluvialis alga. This natural substance has an ability to pass through the body and reach the retina. Carotenoids are also a form of natural vitamin A, which is needed for normal function of eyesight, skin, and mucous membranes. Astaxanthin is actually a so-called pro-vitamin A, which means that it is a substance that the body can convert into vitamin A and then use where needed.
Antioxidants for your vision
Wonderful Eyes also contains several antioxidants in the form of vitamin C, vitamin E, selenium, copper, and zinc. Antioxidants are a chemical compound that counteracts free radicals. Simply put, you can say that we need oxygen to breathe, but during oxygen metabolism in the body, free radicals are produced as well. If, in addition, we stress, become ill, or subject our body to heavy physical labour, the amount of free radicals increase. By adding antioxidants to the body, it gets help taking care of the excess from these free radicals. This process, in turn, helps to strengthen blood vessels and eye tissue, protecting the eyes from the aging process.
Anthocyanins and flavonoids are also rich in antioxidants, which also protect against free radicals and aging of the eyes. Especially dark berries, such as blueberries, have lots of anthocyanins and flavonoids in their skin. Wonderful Eyes therefore has blueberry extract standardised to 25% anthocyanins. The capsules contain natural ingredients as far as possible and is very high-dose in order to give your eyes the very best conditions.
Brand
Product recommendations
Hyaluronic Acid Plus
90 caps.
Super Blueberry Extract
60 caps.
Popular
Popular