Bild saknas
Extra Virgin Organic Coconut Oil
Extra Virgin Coconut Oil.

- Cold-pressed
- Naturally rich in MCT fat
- Organically certified
Hyaluronic Acid Plus
90 caps.
Popular
Popular
Product description
Nutritional content
Product description
Cold-pressed extra virgin coconut oil
Coconut Oil Extract Virgin ECO from Healthwell is a cold-pressed, organic, certified coconut oil without additives. The oil is rich in MCT fat and lauric acid, which helps to maintain normal health. Coconut oil is known for its multifunctional uses, for example, as a rehydrating skin and hair care product and as an ingredient in baking and cooking.
Coconut oil is also a naturally good source of saturated fatty acids. MCT stands for Medium Chain Triglycerides. Unlike other types of fatty acids, MCT can be used as energy instead of being stored as body fat. This, and the fact that it can also contribute to an increased feeling of satiety, has led to the coconut oil becoming a popular supplement in weight loss.
Organically certified coconut oil
Cold-pressed and extra virgin
Naturally rich in MCT fat
Great in both cooking and skincare
Why choose a cold-pressed coconut oil?

Coconut oil consists of saturated fats that are heat-resistant, which is one of the reasons why the oil has become a popular choice in cooking and baking. The MCT fats can be heated without losing their health effects. In addition to a naturally nutty and smooth taste, the oil has several significant properties. Cold-pressed coconut oil retains the essential fatty acids, but also the heat-sensitive vitamins.
Once the coconuts are harvested, the process of pressing and bottling takes place within three days. The oil is gently pressed in temperatures that do not affect the original, nutritious content of the oil. No chemicals are used in the pressing. Cold-pressed coconut oil thus preserves its chemical composition and its natural, healthy properties. It is also through this process that a product is allowed to be called Extra Virgin.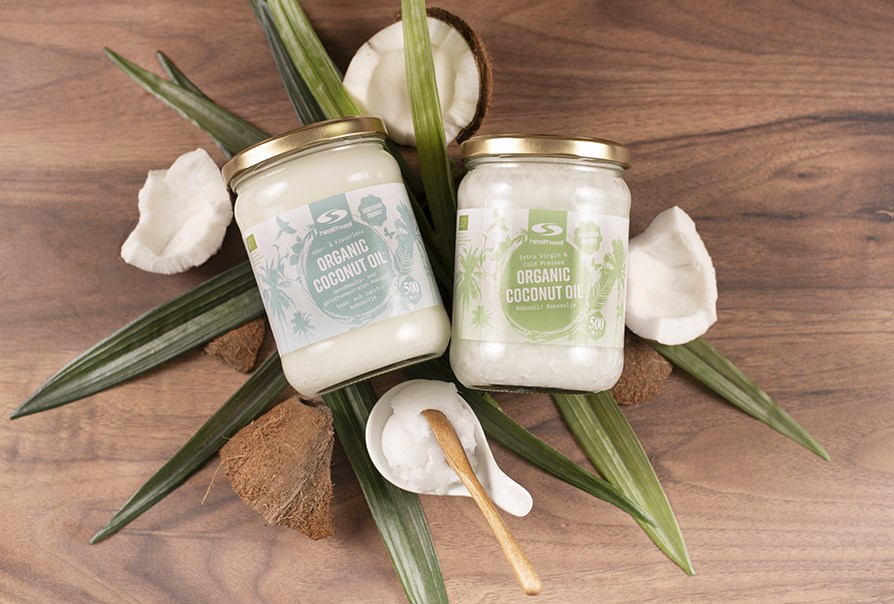 Fatty acids with multiple properties
The various fatty acids contained in MCT fat have many beneficial properties, primarily in the intestines and as energy supply to the brain. Fatty acids with fewer carbon atoms can more easily be broken down by the body and converted into energy. In the liver, MCT is converted into energy in the form of ketones that provide quick energy to the brain and that can contribute to increased focus. Healthwell Coconut Oil Extract Virgin ECO contains a large amount of the fatty acid lauric acid, which, in addition to acting as energy, has antibacterial and antiviral properties in the intestines.
Brand
Product recommendations
Hyaluronic Acid Plus
90 caps.
Popular
Popular