Bild saknas
Organic Coconut Oil Neutral
Geruchsneutrales ökologisches Kokosöl

- Reich an MCT-Fett
- Gut fürs Kochen und die Schönheitspflege
- Geruchs- und geschmacksneutral
Hyaluronic Acid Plus
90 caps.
Popular
Popular
Product description
Nutritional content
Product description
Organic neutral coconut oil
Healthwell Coconut Oil Fragrance Free ECO is neutral in both fragrance and flavour and perfect for those who like the effects of the coconut oil but don't want the taste of coconut. The coconut oil contains 100% organically certified oil, with no additives. The natural oil is heat-resistant and can be used in both cooking and baking, as well as for rehydrating skin and hair. The oil is solid at normal room temperature but becomes liquid at temperatures above 24°C.
Healthwell Coconut Oil Fragrance Free ECO is rich in MCT fatty acids containing the essential nutrient lauric acid. Lauric acid is essential for people of all ages and helps maintain normal health. Coconut oil has also become a popular supplement in weight loss, as the body uses the fatty acids of the oil to produce energy instead of storing them as body fat, unlike many other types of fats. In addition, MCT retains important nutrients regardless of temperature and is thus a great addition in cooking or as part of your skincare routine.
Neutral in fragrance and flavour
Organically certified coconut oil
Heat-resistant
Naturally rich in MCT fat
Benefits of MCT
MCT is abundant in the coconut and stands for Medium Chain Triglycerides. This MCT oil is colourless and fragrance free and works very well in, for example, cooking, as the oil can withstand heating without losing its healthy effects. MCT fats have several health benefits that many other fatty acids can't contribute. The medium chain triglycerides are, for example, easier to digest compared to other fatty acids. Another benefit of MCT is that it contains lauric acid, which has an antibacterial and antiviral effect in the intestinal flora. Adding MCT can also contribute to a feeling of satiety, which can be beneficial in weight loss, and to better digestion, as medium chain triglycerides are easier for the intestine to break down.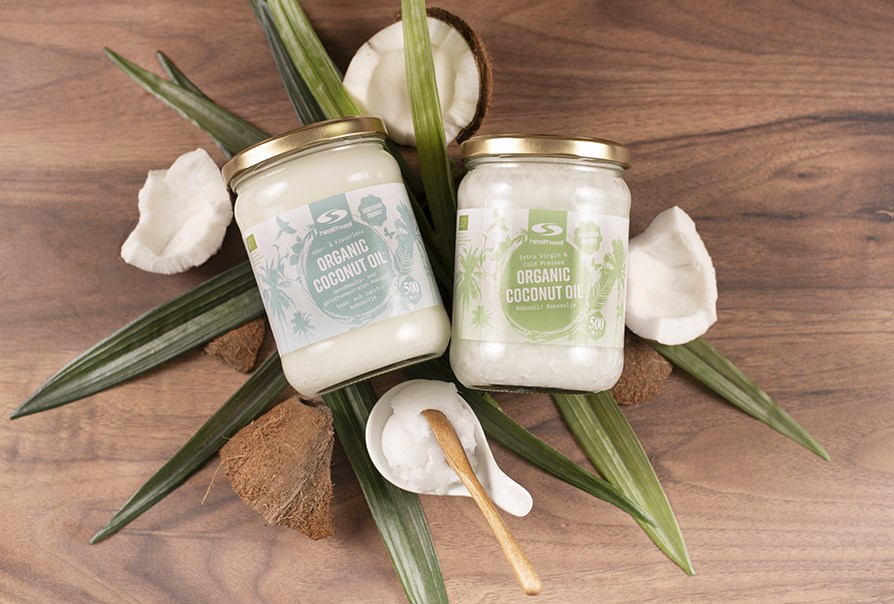 What is lauric acid?
Coconut oil has high lauric acid content and accounts for about half of the fatty acids. In the intestine, the lauric acid is converted into monolaurin, which has antibacterial and antiviral properties. Lauric acid is rare in foods and, besides coconut oil, it is found in mammalian milk, where it acts as an essential nutrient. In addition to lauric acid, MCT fat contains caprylic acid, which also has positive effects on the intestinal flora and its growth.
Healthwell Coconut Oil Fragrance Free ECO consists of 47.7% lauric acid per 100 grams and accounts for the majority of the fatty acids contained in MCT. Caproic acid, caprylic acid, and capric acid are the remaining fats, which also contribute to the body's energy production. What differentiates the various fatty acids are their respective proportion of carbon atoms and how quickly they are converted into energy in the body.
Brand
Product recommendations
Hyaluronic Acid Plus
90 caps.
Popular
Popular