Bild saknas
Cold pressed oil for skin and hair. - Organic
- From the plant neem
- Nourishing & moisturizing
Product description
Contents
Product description
Cold pressed oil from neem seeds
PURE Neem Oil ECO (Azadirachta indica) is a high-quality cold pressed oil that contains 100% pure oil from the seeds of the neem tree. The neem tree grows in India and is an Ayurvedic herb that has been used for thousands of years in the Ayurvedic tradition for various types of skin problems. PURE Neem Oil ECO has a warm, nutty and slightly bitter scent. It is suitable for both skin and hair care due to its antibacterial properties, has an slightly astringent and regenerating effect.
100% pure oil
Antibacterial properties
Organic
Cold pressed
Moisturising and nourishing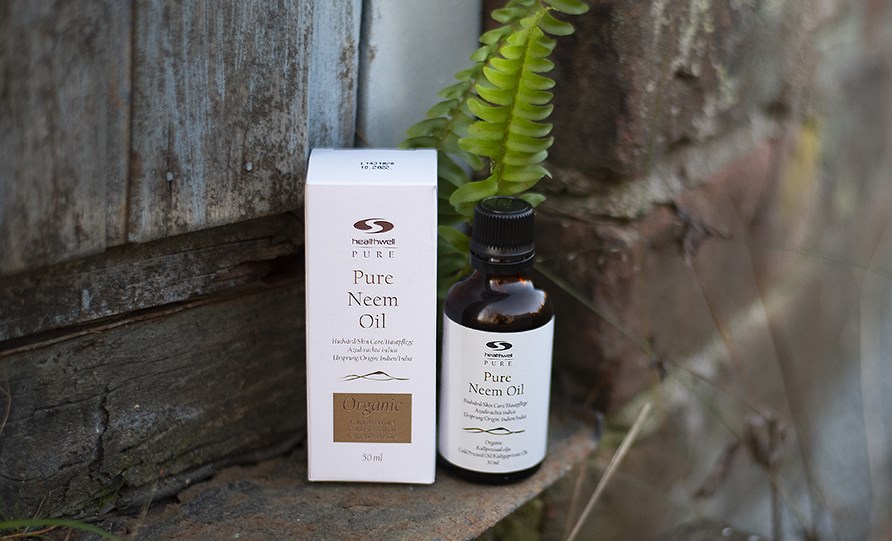 Use of neem oil
You can use PURE Neem Oil ECO as a nourishing oil for hair, skin and the body. The oil is active and relatively viscous in consistency. It can be used as it is on hair, skin and the body, but you can also mix it with other vegetable oils. For example, almond oil which is a very moisturizing oil or jojoba oil which is good for both dry and impure skin. Mix neem oil with almond oil for an excellent hair mask. You can also add a few drops of neem oil to your shampoo to counteract frizzy and dry hair. It is also said to have a good effect on an irritated and dry scalp.
The oil contains the healthy fatty acids omega-6 and -9, and is therefore good for both dry and impure skin. Dry skin needs moisture, and this also applies to oily and impure skin that needs a better sebum balance. Feel free to combine neem oil with tea tree, which has a cleansing effect.
Against mosquitoes and insects
Because neem oil has a special scent, the oil is also used for plants. For example, it is used in leaf coat for plants affected by pests. You can also use it to keep mosquitoes and insects away, as they do not like the smell.
Brand
Product recommendations