Bild saknas
Essential oil from Palo Santo. - Sweet aroma
- Aromatherapy
- Calming
Hyaluronic Acid Plus
90 caps.
Popular
Popular
Product description
Contents
Product description
Essential oil made from Palo Santo
PURE Palo Santo ECO is a 100% pure essential oil produced by distilling wood (Bursera graveolens). Palo Santo is popular for its pleasant aroma and powerful cleansing effect. The oil has a slightly sweet scent reminiscent of a mixture of frankincense and orange blossom. You can use PURE Palo Santo ECO in skin care, aromatherapy and meditation.
For meditation and aromatherapy
Cleansing and antiseptic
Slightly sweet aroma
Produced by distilling wood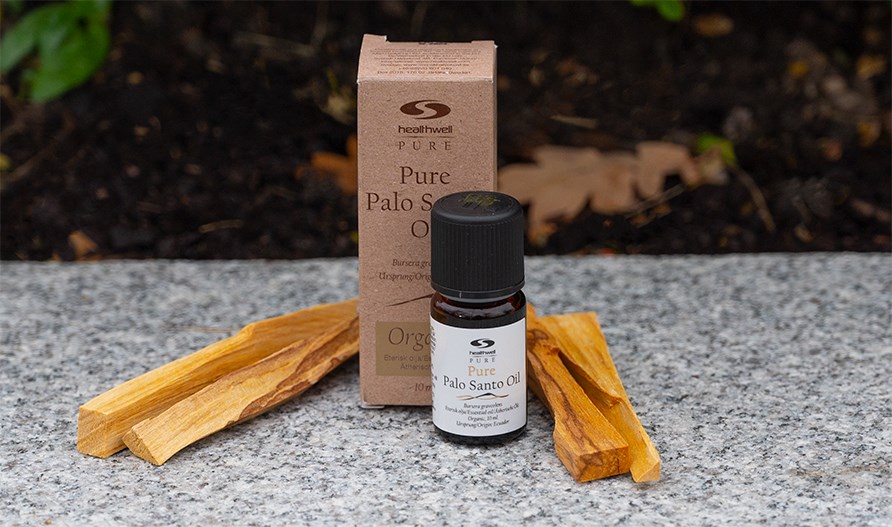 PURE Palo Santo EKO is perfect for aromatherapy and meditation.
Use of Palo Santo
Palo Santo has become popular for, among other things, incense and aromatherapy because it has a cleansing and highly antiseptic effect. It opens up your senses and cleanses your energy field. The scent also has a calming effect and is suitable for those who want more positive energy.
Among other things, you can use PURE Palo Santo ECO for meditation for a calming effect and for aromatherapy to cleanse bad energy from your home and around you. In skin care, diluted Palo Santo can be used for impure skin, for example.
For aromatherapy: Drop into an aroma lamp, aroma bath or diffuser (diluted to 2%). Enjoy the slightly sweet scent that cleanses bad energy.
For skin care products: Mix essential oil with other oils, such as coconut oil at a concentration of max of 2%. That is, about 2 drops of essential oil per tablespoon of other oil. Perfect to use to make your own body oil or body butter.
Production
PURE Palo Santo ECO is produced through distillation of the Palo Santo tree from Ecuador. Palo Santo trees are protected by the indigenous people and have been used for thousands of years in sacred rituals. The tree has been called sacred, magical and unique.
Brand
Product recommendations
Hyaluronic Acid Plus
90 caps.
Popular
Popular