Bild saknas
Essential oil with patchouli.- Organic
- Good for oily hair
- Warm and spicy scent
Hyaluronic Acid Plus
90 caps.
Popular
Popular
Product description
Contents
Product description
Organic Patchouli Oil
PURE Patchouli oil ECO is a 100% pure essential oil with patchouli. The oil is extracted from the leaves of the patchouli plant that grows in Indonesia. By distilling the leaves, the oil is obtained. The patchouli oil has a warm, earthy, spicy aroma with a little sweetness to it. Patchouli is popular in skin care but also in perfumes and in aromatherapy. PURE Patchouli oil ECO works excellently to use in skin care because it has an astringent effect, stimulates the skin and has an anti-inflammatory effect. Can be used on both mature and oily skin. Good also for hair that easily gets greasy.
100% pure oil
Organic
Warm, spicy & sweet aroma
Cleansing for blemish-prone skin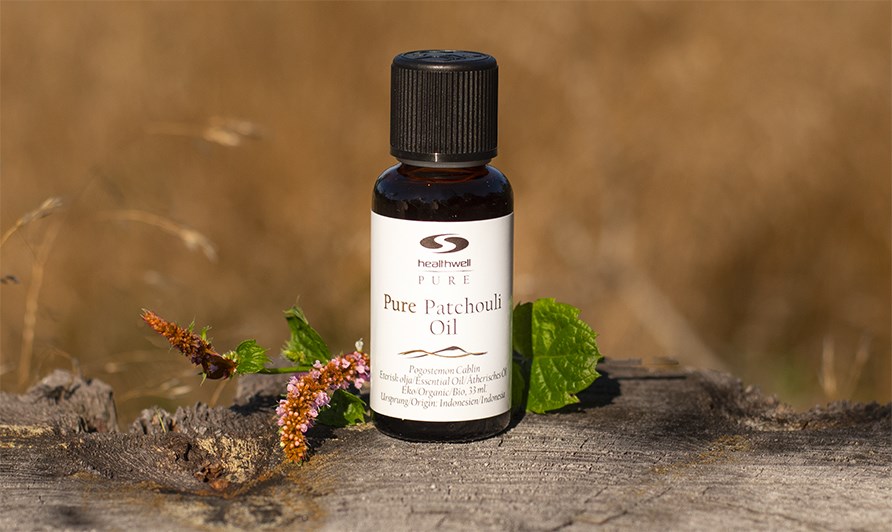 Use of Patchouli Oil
You can use PURE Patchouli Oil ECO for a lot. Because the essential oil is so concentrated, not many drops are needed. If you dose too much, it can easily take over and become too strong. Because the oil has a wonderful scent, it is perfect for scenting soaps, creams, oils and much more.
For the skin
Patchouli oil has an astringent effect and stimulates the skin, which makes it suitable for anti-aging and mature skin. You can add a few drops to your regular skin care products and massage into the skin as part of your daily skin care routine. Or, for example, make your own face cream or your own body oil. Patchouli oil from PURE is good if you have impure or acne-prone skin because it is anti-inflammatory and antiseptic.
For oily hair
Thanks to the properties of patchouli oil, it is well suited for oily hair. Drop a few drops in your shampoo and soothe the scalp and stimulate the production of sebum. Helps even if you have a dry and irritated scalp.
Aromatherapy
Relax and feel calm with aromatherapy. Drop a few drops of patchouli oil into your aroma lamp. Patchouli is considered to have an uplifting and sensual effect.
Brand
Product recommendations
Hyaluronic Acid Plus
90 caps.
Popular
Popular