Bild saknas
Essential oil with thyme.- ECO
- Herbal fragrance
- 100% pure oil from thyme
Hyaluronic Acid Plus
90 caps.
Popular
Popular
Product description
Contents
Product description
Organic thyme oil
PURE Thyme oil ECO is an essential oil that contains 100% pure oil from the spice thyme. Thyme oil is a versatile oil that can be used for many things. PURE Thyme oil ECO is concentrated and contains only pure oil, which is ideal as it means you only need to measure out one or two drops. Thyme oil has a herbal scent of thyme and is suitable as both a seasoning for food and for skin care. It is good to use in skin care, as thyme has antibacterial and antiseptic properties. The oil is also effective in aromatherapy because it is activating and purifies the air in the room.
Organic
Essential thyme oil
Antibacterial and antiseptic
Versatile oil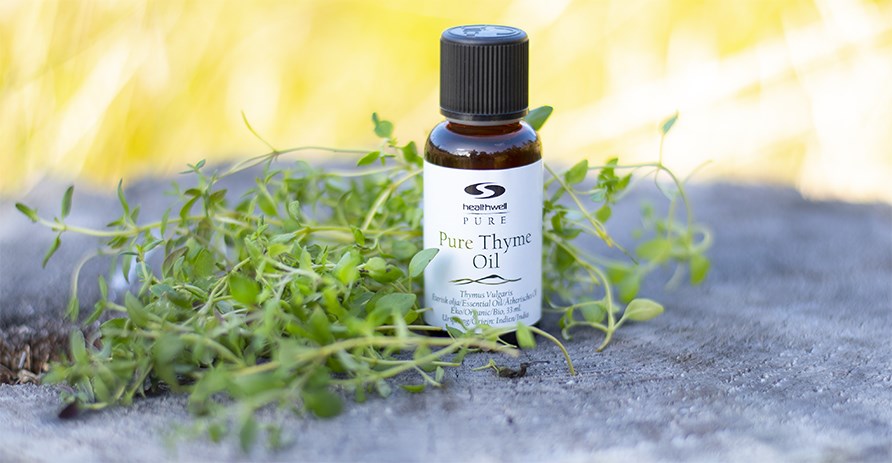 Versatile oil
PURE Thyme oil ECO is perfect if you want an essential oil to be able to use a lot and because it is so concentrated, it lasts a long time. You can try making your own skin care products and adding thyme oil for a herbal and wonderful scent. Because thyme oil is antibacterial and cleansing, it is suitable for those with impure or acne-prone skin. For example, make a homemade face cream or a beard oil with a wonderful scent of thyme. Mosquitoes and insects do not like thyme oil so it is perfect if you want to keep them away. Make your own oil with thyme oil from PURE to protect against insect and mosquito bites. Thyme oil is excellent to use for baking and seasoning for cooking. Season, for example, an oil, butter or a loaf of bread to get a taste of thyme.
Thyme oil is effective if you suffer from a cold or cough and need to find something that dissolves mucus. The oil helps maintain optimal function in the upper respiratory tract.
Tip! Add a few drops of thyme oil to your soap when cleaning for a fresh scent.
Thyme oil and aromatherapy
When you want to unwind, relax and refuel and get new energy, aromatherapy can help. Aromatherapy means that together with essential oils, which with their unique properties and effects, can have a positive effect on humans and create peace of mind and also have an uplifting effect. Essential thyme oil spreads a herbal and wonderful scent that activates and purifies the air in the room. It allows you to let go of negative thoughts and achieve peace of mind. PURE Thyme oil ECO can be used in your aroma lamp or for example when you bathe in the sauna to freshen up.
.
Brand
Product recommendations
Hyaluronic Acid Plus
90 caps.
Popular
Popular