Bild saknas
High-dose rhodiola rosea. - With pantothenic acid
- Rhodiola rosea extract
- Plant-based capsules
Product description
Nutritional content
Product description
Rhodiola Rosea with pantothenic acid
Rhodiola Rosea Plus from Healthwell is a high-dose supplement of rhodiola in plant-based capsules. Rhodiola Rosea Plus contains rhodiola extract and pantothenic acid (vitamin B5) which helps maintain normal mental performance as well as reduce fatigue and exhaustion. Rhodiola rosea grows in the Swedish mountains, among other places. Rhodiola rosea has in recent years been the subject of several studies on its effect on mental performance and counteracting fatigue.
Highly-dosed rhodiola rosea
Pantothenic acid contributes to mental performance
Helps counteract fatigue
Use during periods of fatigue
Plant-based capsules
What is rhodiola rosea?
Rhodiola rosea, also known as rose root, was given this name thanks to the fact that the plant's root has a lovely scent of roses. It thrives best in colder climates and therefore grows in the Swedish mountains, among other places. Rhodiola rosea is its Latin name, and it belongs to the family of succulents. Rose root blooms in June to July with yellow flowers, but it's the root that is used for its beneficial properties. Recently, it has become popular to buy rhodiola rosea in tablets to take advantage of its properties in a concentrated form.
Research on rhodiola rosea
Rose root has appeared in many studies focusing on fatigue and depression. A study from 2015 (1) compared results between rhodiola rosea supplements and antidepressants and how these affected test subjects. All 57 test subjects had mild symptoms of depression that lasted longer than two weeks, such as sleep disturbances, difficulty concentrating and difficulty feeling happy. The study lasted for 12 weeks, where one group received prescription antidepressants daily, one group received 340 mg of rhodiola rosea per day and one control group received a placebo daily. The results showed that there were no major differences between rhodiola rosea and the prescription anti-depressant, both had clear results. The difference, however, was that rose root did not cause any side effects unlike the prescription drug.
What are the first warning signs that we are starting to get tired?
The first signs that we're starting to get tired are that concentration decreases and we start to feel powerless. Fatigue can have many causes such as lack of certain vitamins and minerals, but often it is due to too little sleep or too much stress. Stress is the most common reason for poor sleep, and too little sleep obviously contributes to increased feelings of fatigue. In the Northern hemisphere, many people find that they feel more tired in the winter, which may not be so strange due to the lack of sunlight, as light helps us feel more alert.
Are there any side effects of rhodiola rosea?
As with most supplements, everyone reacts differently and this also applies to the side effects of rhodiola rosea. Therefore, it may be a good idea to start with a tablet for the first time to see how rhodiola rosea affects you and to avoid any side effects. Some people may find that their night's sleep is a little disturbed if they take rhodiola rosea late at night. Therefore, we recommend taking the tablets in the morning or early afternoon to avoid it. As long as you follow the dosage instructions on the packaging, there are no known side effects. In general, herbal supplements with adaptogens such as rhodiola rosea should be avoided for those who are pregnant or breastfeeding.
Rhodiola rosea belongs to a group of plants called adaptogens, this also includes schisandra and Siberian ginseng. That they are adaptogens means that they have the ability to adapt to the body's needs without giving a central stimulating effect like caffeine and nicotine do.
How to dose rhodiola rosea?
When it comes to the dosage of Healthwell's Rhodiola Rosea Plus, we recommend 1-2 capsules daily, and preferably in the morning. Taking rhodiola rosea in the late afternoon or evening can affect your sleep, although most people do not experience any problems.
Vegetarian Friendly
The symbol Vegetarian Friendly indicates that the product's content is suitable for vegetarians and vegans.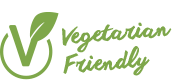 References
1. Mao J, Xie S, Zee J, Soeller I, Li Q, Rockwell K, Amsterdam J. 2015. Rhodiola rosea versus sertraline for major depressive disorder: A randomized placebo-controlled trial.
Brand
Other promotional products